11 Amazing Historic Houses in London
Exploring England, Scotland, and Wales
---
From Kenwood to another of Robert Adam's masterpieces, Osterley Park in Hounslow. This stunning 1761 house was designed for the founder of Childs Bank on the site of a Tudor mansion. The 16th-century stables still survive but the rest is pure Adam, with opulent rooms in neo-classical style.
The highlight is the Etruscan dressing room, inspired by Etruscan vases from the collections of Sir William Hamilton. Adam designed not only the decoration but also the domed state bed. A delightful story says that when Child got Adam's bill for the state bed he tore it up so that no one would ever discover how much he had paid!
The house is full of fine art and furniture, ceramics, glassware and tapestries.
Adam's interiors remain practically untouched, making Osterley Park one of the best examples of an unaltered 18th-century stately home in Britain. Adam also had a hand in the 6 acres of gardens that surround the house, including a neo-classical summerhouse. Look for the Temple of Flora, another neo-classical garden feature.
Nearest underground station: Osterley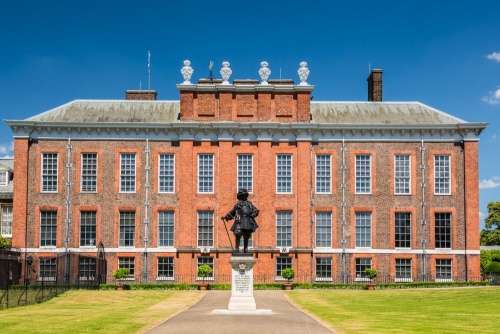 ---
Though Kensington Palace is best known for its role as a royal palace and childhood home of Queen Victoria, this elegant red-brick house on the edge of Kensington Park began as a simple 2 storey house built in 1605 for Sir George Coppin. When Coppin built his house Kensington was little but farmland, far from the noise and squalor of central London.
In 1689 King William III bought Kensington House as a country retreat - an escape from the pressures court life and a place far enough from the River Thames to ease his asthma. Sir Christopher Wren and Nicholas Hawksmoor transformed the house into a residence suitable for a monarch, but very much favouring comfort over prestige.
The Palace was expanded by William Kent for George I in 1722. Kent designed a suite of lavish state rooms; the Privy Chamber, Cupola Room, and King's Drawing Room. He also created the astonishing King's Staircase, with its extravagant gilded ceiling and trompe l'oeil Italianate wall paintings.
George II was the last monarch to live at Kensington Palace. After his time the Palace was used as a residence for members of the royal family. One famous resident was Diana, Princess of Wales.
Queen Victoria was born at Kensington Palace and spent much of her childhood here. Kent's Dressing Room and Queen Victoria's Bedroom have been redecorated to reflect how they might have looked when Victoria grew up at Kensington in the 1830s. The State apartments are stunning, but for me, the most impressive part of the Palace is the Cupola Room, with its remarkable gilded ceiling and chandelier.
Nearest underground station: High Street Kensington
---
Around 1338 the Knights Hospitaller of St John built a house at Hampton, a rural village on the River Thames. In 1514 Cardinal Thomas Wolsey bought the estate and began to build an opulent residence suitable for the most powerful man in the kingdom after the king himself.
Wolsey added a suite of ornate rooms to entertain the king and his court, and here at Hampton Court he lived like a king himself. Wolsey spared no expense; he hung the walls with hundreds of expensive tapestries, which were changed every week.
But Wolsey was dependent on keeping the king's favour, and when the king cast a covetous eye on Hampton Court Palace Wolsey found it expedient to offer it to Henry. The king spent even more money on the Palace, adding luxurious quarters for his second wife, Anne Boleyn, royal council chambers, a great hall, and royal kitchens.
He built private quarters with hot and cold running water - an extraordinary luxury for the time - a real tennis court and two bowling alleys. Another Tudor legacy is the ghost of Catherine Howard, Henry's fifth wife, who is said to linger in the Haunted Gallery.
The Tudor palace was transformed under William and Mary when Sir Christopher Wren was called in to remodel the Tudor palace in Baroque style that would rival Versailles Palace in France. Perhaps the most impressive part of this second phase of building at Hampton Court is the King's Staircase, featuring fabulous murals in classical style by Antonio Verrio.
Though the Palace interiors are worth exploring, don't miss the gardens! Behind the King's Apartments is the Great Fountain Garden, designed in 1689 out of Henry VIII's hunting park. Near the Privy Garden (a private garden for the monarch) is a greenhouse housing The Great Vine, planted by Capability Brown in 1768 and the oldest known vine in the world. Then there is The Maze, the oldest hedge maze in the world, planted in 1700 and immortalised in Jerome K Jerome's popular novel 'Three Men in a Boat'.
Nearest underground station: Richmond (4 miles). Far better is London Overground to Hampton Court.

---
Honourable Mention
Ooh, it was hard to eliminate these four wonderful houses but I couldn't finish without mentioning them. First up is Spencer House, overlooking Green Park just a stone's throw from Buckingham Palace. This elegant house has been the London home of the Spencer family of Althorp Park for hundreds of years. What a location!
Then there is Pitzhanger Manor in Ealing, designed by the Regency architect Sir John Soane. In Brentford is lovely Boston Manor, a lovely Jacobean house created in 1623 and featuring superb Jacobean strapwork ceilings.
In Acton Town is Gunnersbury Park, a Regency-style stately home once owned by the Rothschild banking family. The house sits in historic grounds including an 18th-century neo-classical temple and a 19th-century orangery.
Best of Britain Express Art Prints