The Ultimate Guide to Mary, Queen of Scots locations in Scotland
Exploring England, Scotland, and Wales
And for a little added bonus, here are several more places strongly linked to Mary, Queen of Scots across the border in England.
Places in England
---
Bolton Castle, Yorkshire
Bolton Castle is an imposing medieval fortress at the entrance to Wensleydale. It was begun by Richard le Scrope in 1378. Scrope acted as Lord Treasurer and Lord Chancellor to Richard II, and was one of the most powerful men in 14th-century England.
Mary, Queen of Scots was imprisoned here after her escape from Scotland. It was not a harsh imprisonment; Mary was given a range of chambers in the south-west tower. She had the best suite of rooms in the castle and was supported by a household of 51 people.
The castle did not have furnishings suited to a queen's household so furniture and tapestries were borrowed from nearby wealthy homes. Queen Elizabeth I contributed some pewter tableware and a kettle from her own royal household.
The queen was allowed to hunt and permitted to meet local Catholics. Lord Scrope was later reprimanded for his lenient treatment of Mary. The queen stayed at Bolton Castle from July 1568 until January 1569 when she was taken to Tutbury Castle in Staffordshire. There she would spend the next of the next 18 years as a prisoner.
---
Tutbury Castle, Staffordshire
Tutbury Castle was begun shortly after the Norman Conquest. That first castle was no more than a motte and bailey set on a high ridge over the River Dove. It was besieged several times over the following centuries until it was seized by Henry IV as a royal fortress.
Mary, Queen of Scots was imprisoned here on four separate occasions over the span of 18 years. During her fourth stay at Tutbury Mary was implicated in the Babington Plot to overthrow Queen Elizabeth I. This was the final straw that convinced Elizabeth to order Mary's execution.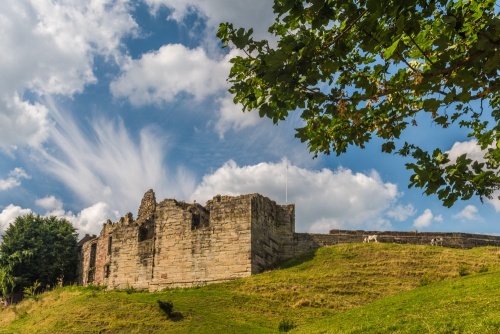 ---
Fotheringhay Castle, Northamptonshire
Only the earthworks and the conical motte remain of Fotheringhay Castle, standing on level ground above the peaceful River Nene. The castle was founded around 1100 AD by Simon de St Liz (Senlis), Earl of Northampton and Huntingdon.
Mary, Queen of Scots was brought to Fotheringhay in 1586 to stand trial for treason. The trial was only for appearances; the verdict was already determined. The trial took place on 14 and 15 October 1587 and the verdict was announced on 25 October.
Elizabeth I was initially reluctant to sign the death warrant, but she eventually gave in to pressure from her advisors and on 8 February 1588 Mary, Queen of Scots was executed in the great hall of Fotheringhay Castle.
---
Westminster Abbey, London
Mary's body was left on view at Fotheringhay until July and her body was finally interred at Peterborough Cathedral. When Mary's son James took the throne as James I of England he had his mother's body transferred to Westminster Abbey and buried in Henry II's chapel. Her tomb is noticeably slightly larger than Elizabeth I's.
OTHER PLACES
Places of secondary importance in Mary's life in both England and Scotland. For example, places she slept or visited briefly.
Abbotsford, Borders
Author Sir Walter Scott's house. Scott collected historical objects from Scottish history, among them the keys to Lochleven Castle, thrown into the loch after Mary, Queen of Scots escaped from her island prison.
Callendar House, Central Scotland
Mary, Queen of Scots stayed here on a state visit. The queen slept in the laird's chamber on the second floor.
Canongate Kirk, Edinburgh, Lothian
Mary's murdered secretary, David Rizzio, is said to have been buried here following his murder at nearby Holyroodhouse.
Carlisle Castle, Cumbria
Mary's first prison in England. The queen was held for several weeks in the Warden's Tower, later known as Queen Mary's Tower.
Craignethan Castle, Strathclyde
Mary sheltered here before the battle of Langside in 1568.
Crookston Castle, Strathclyde
Once owned by the Stuarts of Darnley. The queen may have stayed here with Henry Darnley, her second husband, and they may have become engaged to be married at Crookston.
Delgatie Castle, Aberdeenshire
Mary, Queen of Scots stayed here for three days in 1562 and you can visit her bedchamber.
Dunnottar Castle, Aberdeenshire
Mary came here twice; in 1562 and again in 1564 when she was accompanied by her young son, the future James VI of Scotland.
Fast Castle, Borders
Mary stayed here in 1566.
Findlater Castle, Moray
Sir John Gordon refused to let Mary enter the castle. She sent armed men to seize the castle but Gordon repulsed the attack. He was captured at the Battle of Corrichie and executed for treason.
Glenluce Abbey, Dumfries and Galloway
Mary is known to have visited the abbey, as did Robert Bruce.
Hailes Castle, Lothian
When James Hepburn, 4th Earl of Bothwell kidnapped Mary in 1567 they stayed at Hailes Castle on their way to Dunbar Castle.
Lochmaben Castle, Dumfries and Galloway
Mary stayed here in 1565 with her second husband, Lord Darnley.
Oxburgh Castle, Norfolk
See needlework hangings stitched by Mary while she was held in custody by the Earl of Shrewsbury.
Peterborough Cathedral, Cambridgeshire
On the south side of the cathedral chancel is a memorial commemorating Mary's burial here following her execution at Fotheringhay Castle.
Scone Palace, Perthshire
The traditional coronation place of Scottish monarchs (Mary was, however, crowned at Stirling Castle, as was her son James). See pieces of embroidery stitched by Mary, Queen of Scots.
Southwick Hall, Northamptonshire
Legend says that Mary, Queen of Scots burial certificate is hidden behind a wall somewhere inside Southwick Hall.
St Giles Cathedral, Edinburgh, Lothian
The Scottish Parliament met here, and Mary likely attended Parliamentary gatherings.
Temple Newsam House, Yorkshire
The birthplace of Lord Darnley, Mary's ill-fated second husband.
Wingfield Manor, Derbyshire
Mary was imprisoned here twice (in 1569 and 1584-5).
---
Have we missed anyplace? Let us know!
Best of Britain Express Art Prints