The Ultimate Guide to Mary, Queen of Scots locations in Scotland
Exploring England, Scotland, and Wales
The 2019 release of the Holywood film Mary, Queen of Scots, starring Saoirse Ronan, sparked fresh interest in the life of this enigmatic and ultimately tragic 16th-century monarch. We've put together a list of historic attractions linked with Mary's life, plus several locations used as a setting for the film.
---
Linlithgow Palace, Lothian
Mary, Queen of Scots was born here on 8 December 1542.
Linlithgow Palace was begun in 1424 by Mary's great-great-great-grandfather, James I, on the site of an earlier royal residence that had been destroyed by fire.
Centuries of building by Stewart monarchs created a magnificent palace on a quadrangular plan, with four ranges set around a central courtyard. At the centre of the courtyard is a richly decorated fountain built by Mary's father, James V in 1538.
The palace is known for its fabulous array of sculptures, including a series of angel musicians in the royal chapel.
---
Linlithgow, St Michael's Church, Lothian
A stone's throw from the royal palace of Linlithgow is St Michael's Church, one of the largest and finest medieval churches in Scotland. The church was built in the 15th century after a fire destroyed the earlier medieval church on this spot.
Stewart monarchs gave money to restore St Michael's, but the work was only completed in 1540, just 2 years before Mary's birth. Mary was baptised here in December 1542.
After the Reformation, the church suffered from neglect. It was used as a lumber store in 1620, and in 1645 it served as the University of Edinburgh campus when faculty and students were forced to flee Edinburgh after an outbreak of the plague.
Look for a bell made in 1490, thought to be one of the oldest bells in Scotland still in use.
---
Blackness Castle, Lothian
Blackness Castle was built in the 1440s by Sir George Crichton, on the site of an early medieval fortress. It stands on a low point of land jutting out into the Firth of Forth. It was used as an artillery fortress in the 16th century, served briefly as a Royal castle, and became an ammunition depot in the Victorian period. Its peculiar, elongated shape has given Blackness Castle its popular nickname, 'The Ship that Never Sailed'.
When Mary, Queen of Scots was born in 1542 the plan was for her to be kept under guard at Blackness Castle for her own protection. The shifting tides of politics meant that the plan was abandoned and Mary never did come in person.
Twenty-five years later, civil war erupted between Mary and the leading Protestant nobles of Scotland. The Blackness garrison remained loyal to the queen and caused major problems to rebel ships sailing up the River Forth.
Blackness Castle is used to portray the Palace of Holyroodhouse in the film.
---
Glen Coe, Highlands
The dramatic, beautiful and often bleak landscape of Glen Coe offers some of the most picturesque scenery in the Scottish Highlands. Fingal, the legendary Celtic hero of myth and legend was said to live in Glen Coe. Fingal was the leader of the Feinn, a band of heroic warriors.
The MacDougall clan controlled Glen Coe from the 11th century, but the MacDougalls supported the Balliol family against Robert Bruce. When Bruce gained the throne of Scotland he gave Glencoe to Angus Og, chief of the MacDonald clan, and the MacDonalds owned the glen for the next 400 years.
The MacDonalds quarrelled with the Campbells, but an apparent peace overture by the Campbells in 1692 saw the MacDonalds open their doors in friendship. The Campbell guests rose from their beds in the dead of night and slew 40 MacDonalds in a treacherous act that is known as the Glencoe Massacre.
Today, much of the glen and the surrounding area is owned by the National Trust for Scotland. The dramatic mountain scenery of Glen Coe has led to its use as a setting for numerous films including several Harry Potter films, James Bond's Skyfall, and the Robert Bruce saga 'Outlaw King'. Glen Coe features in the Mary, Queen of Scots movie in scenes showing Mary's armies riding and marching.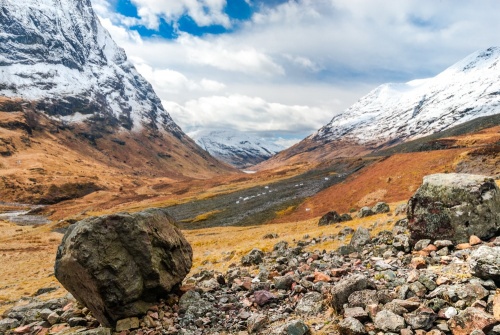 ---
Strathdon (Corgarff Castle), Aberdeenshire
One of the most remote and least visited parts of Scotland is Strathdon, about 45 miles west of Aberdeen. This dramatic and sometimes bleak landscape is a wonderful place for spotting wildlife. It is also a place filled with history.
Corgarff Castle is a peculiar star-shaped military garrison in Strathdon built from an earlier 16th-century tower house. The tower house was subject to a bloody clan siege in 1571 when the Gordons of Auchindoun trapped the Forbes residents within the house and set fire to it, killing 24.
Poldullie Bridge in Strathdon features in the Mary, Queen of Scots film as the place where Mary is ambushed, with cows block her escape over the bridge.
---
Alloa Tower, Clackmannanshire
Alloa Tower is the ancestral home of the Erskine family, Earls of Mar and Kellie. It is one of the largest surviving medieval tower houses in Scotland. Alloa Tower was built around 1368 to guard a ferry crossing of the River Forth.
The Erskines traditionally acted as guardians to children of the Stuart monarchs, so it was only natural that Mary, Queen of Scots spent some of her childhood under their care at Alloa Tower.
Mary rewarded the Erskines for their loyalty to the Stuart cause by giving them the Earldom of Mar in 1565. When Mary was deposed in favour of her infant son James, the 1st Earl of Mar was proclaimed as Regent of Scotland on the young king's behalf.
---
Stirling Castle, Central Scotland
Stirling Castle is inextricably bound with the story of Mary's life. In 1543, at the age of just nine months, she was crowned queen in Stirling Castle's Chapel Royal after the death of her father, James V.
She lived at the castle for most of the first five years of her life until she was moved to Dumbarton Castle and eventually to France. On her return from France, she stayed at the castle numerous times, most notably in 1566 when her son, James VI was christened at the Chapel Royal in a lavish ceremony.
Stirling Castle is one of the best-preserved examples of a Renaissance building in Britain. The royal palace here is shown as it would have looked shortly after completion in 1545, with richly decorated rooms hung with tapestries and decorated with statues.
The Chapel Royal was built by James IV for the baptism of his son Prince Henry in 1593. It was one of the first Protestant churches in Scotland and features an ornate frieze painted for Charles I's coronation visit in 1633.
---
Inchmahome Priory, Trossachs
Inchmahome Priory is a 13th-century Augustinian monastery on an island in Lake Menteith, the only lake in Scotland (all the rest are lochs).
At least two Scottish monarchs have visited Inchmahome Priory. The first was Robert Bruce, who came three times, in 1306, 1308, and 1310. The second was Mary, Queen of Scots, who stayed here in 1547, when she was just 4 years old.
The Scottish defeat at the Battle of Pinkie made Mary's mother Marie de Guise, fear for safety. For three weeks Mary was secreted away on Inchmahome until it was safe for her to be seen in public.
In the centre of Inchmahome island is a grove of boxwood trees said to have been planted by Mary during her brief refuge here.
---
Dumbarton Castle, Strathclyde
This dramatic stronghold, known as the 'Rock of the Clyde', is one of Scotland's most impressive medieval castles. The fortress stands on a pair of volcanic peaks rising from the River Clyde at its confluence with the River Leven. It has the longest recorded history of use of any fortified place in Scotland.
From the 5th century to 1018 it served as the administrative capital of the Kingdom of Strathclyde. From the 13th century, Dumbarton Castle served as a royal fortress, though it was briefly captured by Edward I of England. Scottish hero William Wallace (Braveheart) was imprisoned here briefly, and the Wallace Tower is named for him.
In 1548 the young Mary, Queen of Scots, aged just five, was brought to Dumbarton by her mother, Queen Marie de Guise, for her safety after the English victory at the Battle of Pinkie. She stayed at Dumbarton for 6 months, during which time she almost died from smallpox. She came to Dumbarton 13 years later as an adult, as part of a royal progress in 1563.
After Mary's eventual flight to England, the castle was held for 3 years by her supporters, known as 'the Queen's Party'. They were only defeated after a daring raid when the attackers scaled the sheer north-east cliffs, where they correctly guessed the castle defenders would not think to keep watch.
---
Falkland Palace, Fife
Falkland was the country retreat of the Stewart kings and queens of Scotland. Here the royal court could 'let their hair down' and indulge in noble pursuits such as hawking, hunting, and archery. Falkland began, not as a royal palace but as a simple hunting lodge for the 12th-century Macduff Thanes of Fife.
In 1371 Robert Stewart, Duke of Albany, took over ownership of Falkland. Albany was the most powerful man in the kingdom, but when he fell from power in 1424 the estate was seized by the crown.
James II converted the medieval keep into a suite of comfortable apartments, and subsequent Stewart monarchs extended and embellished the complex of buildings. James V transformed Falkland into a Renaissance palace in the French style.
Mary, Queen of Scots loved Falkland because it reminded her so much of the French chateaux of her youth, and she spent many happy days here during the 1560s.
Falkland boasts the oldest real (or 'royal') tennis court in the world, built in 1539 for James V. Mary was an enthusiastic real tennis player and she would scandalise her courtiers by wearing men's breeches when playing.
After Mary's son James went south to take the English throne in 1603, Falkland Palace became less important as a royal retreat and it is now cared for by the National Trust for Scotland.
---
Whithorn Priory, Dumfries and Galloway
In the 5th century, St Ninian established the very first Christian church in Scotland at Whithorn, in Dumfries and Galloway.
St Ninian's monastery became a popular place of pilgrimage during the medieval period. One of the pilgrims who flocked to St Ninian's shrine in Whithorn was James IV, who visited Whithorn every year of his reign and in 1507 walked all the way from Edinburgh to Whithorn to pray at Ninian's tomb.
James IV's granddaughter Mary, Queen of Scots came to Whithorn in 1563 during a royal progress of south-west Scotland. Mary's visit was in direct contravention of a 1560 law prohibiting pilgrimages. Look for the Stuart Coat of Arms above the Pend gateway to the Priory.
---
Book your Large Group Holiday Cottage in the Scottish Highlands Today
Perfect for family reunions!
Palace of Holyroodhouse, Edinburgh, Lothian
The Palace of Holyroodhouse is the monarch's official residence in Scotland, but it did not begin as a royal residence but as an Augustinian Abbey. In 1501 James IV built a fortified house beside Holyrood Abbey, and his son, James V, extended the residence with a large tower and a west range to create a palatial royal dwelling.
James V's daughter Mary, Queen of Scots, came to live at Holyroodhouse after her return from France to take up the reins of power in her own right. Mary lived here for 5 years and it was here that she married her second and third husbands (Lord Henry Darnley and the 4th Earl of Bothwell respectively).
Visitors can tour the royal apartments, including Mary's Apartments and Bedchamber. The Bedchamber has been called 'the most famous room in Scotland'. In Mary's Outer Chamber her secretary, David Rizzio, was murdered in March 1566. A stain on the floor is said to be his blood. It was also in the Outer Chamber that Mary met the Protestant clergyman John Knox.
---
Holyrood Abbey, Edinburgh, Lothian
Beside the Palace of Holyroodhouse stand the ruins of Holyrood Abbey, founded in the 12th century by King David. Only the roofless nave remains of what was in is day one of the most important monasteries in Scotland. Still standing is the impressive west front with its superb Gothic decoration.
It was here in Holyrood Abbey that Mary, Queen of Scots married James Hepburn, the 4th Earl of Bothwell, on 15 May 1567. The unpopular marriage did much to turn the Scottish nobility against Mary.
---
Huntingtower Castle, Perthshire
Mary Queen of Scots and her second husband, Lord Darnley, stayed at Huntingtower Castle in 1565 on their honeymoon.
The peculiar castle is formed from two separate 15th-century tower houses built just 3 metres apart. They were joined in the 17th century to form the single structure we see today. One highlight at Huntingtower Castle is a beautifully painted ceiling dating to 1540.
---
Dunbar Castle, Lothian
It is hard to imagine it today, but Dunbar Castle was once among the most important and imposing castles in Scotland. The site on the Lothian coast was fortified since the Roman period but the castle we see today began in 1070.
Over the subsequent 500 years Dunbar Castle grew in size and importance and played an important role in protecting the east coast of Scotland from invasion.
Mary, Queen of Scots came to Dunbar Castle three times, each time following a pivotal event in her reign. The first time was in 1566 when Mary and her husband Lord Darnley retreated to Dunbar after Darnley's murder of Mary's private secretary David Rizzio.
Less than a year later the Earl of Bothwell brought Mary to Dunbar Castle 'for her safety', in what was nothing less than a kidnapping. Just a month later the pair returned to Dunbar after their marriage on 15 May 1567.
Today the once-proud fortress is little more than crumbling ruins in a picturesque location at the entrance to Dunbar harbour.
---
Edinburgh Castle, Lothian
Historic Edinburgh Castle dates to at least the 11th century. It began as a hunting lodge for King Malcolm Canmore. Within the castle is a royal palace.
One of the smallest rooms in the royal apartments is a closet-sized room known as The Birth Chamber, or Mary Room. It was here that Mary gave birth to her son and heir James VI (James I of England) on 19 June 1566.
---
Traquair House, Borders
Traquair House, near Innerleithen in the Scottish Borders, may be the oldest continuously inhabited house in Scotland. We know that Traquair was established before 1107, for in that year King Alexander I signed a royal charter here.
Traquair became a royal administrative centre, court of justice, and was used as a royal hunting lodge for Ettrick Forest. In 1491 the Earl of Buchan gave Traquair to his second son, James Stewart, and it has remained in the Stewart family ever since.
The 4th Laird of Traquair served as the Captain of the bodyguard to Mary, Queen of Scots. The queen visited Traquair in 1566 with her second husband Lord Darnley and their infant son James, the future James VI. You can see the bed where Mary slept and the cradle that she used to rock the infant prince.
A later visitor to Traquair was Bonnie Prince Charlie. The Prince entered the estate through the Bear Gates, built in 1738. The 5th Earl of Traquair vowed that the gates would never be opened again until a Stewart king was crowned in London. Since the Bonnie Prince Charlie's bid for the throne failed in 1745 the gates have remained shut.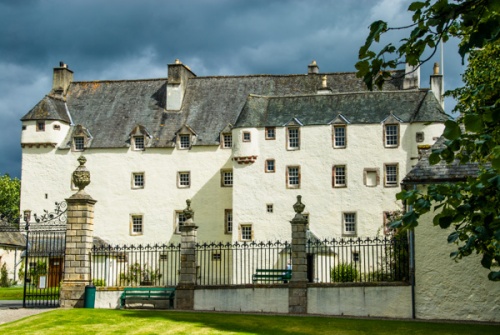 ---
Jedburgh, Borders
Mary, Queen of Scots came to Jedburgh in 1566 to preside over a Circuit Court. The royal burgh offered her a fortified house to serve as her official residence. The house where Mary stayed is now a public museum of Mary's life named Mary, Queen of Scots House.
The house stands on the edge of a public park and is set beside a pear tree garden. One of the museum exhibits is a death mask; a cast taken of Mary's face after her execution at Fotheringhay Castle.
Look for the Last Letter Room, an exhibit of the queen's final words, written just before her execution.
---
Hermitage Castle, Borders
It was at Jedburgh that one of the most controversial events of Mary's life took place. While in residence here the queen received news that her favourite, the Earl of Bothwell, had been badly injured in a skirmish with reivers and was recovering at Hermitage Castle.
Against the advice of her counsellors Mary immediately set out on a ride to The Hermitage across perilous terrain. Her impetuous ride covered 25 miles through a barren and desolate landscape, but in the end she spent just two hours at the Earl's side. To spend more time with him would be to flout propriety even more than Mary could countenance!
Her behaviour scandalised the court, but even worse was to follow, for on her return to Jedburgh the royal party got lost on the moors in bad weather. Mary fell from her horse into a marsh and contracted a fever from which she almost died. In later years she looked back on her misadventure and said, 'would that I had died at Jedburgh'.
Hermitage Castle was built in 1242 in Liddesdale, the turbulent borderlands between Scotland and England. Historical writer George Macdonald Fraser called Hermitage Castle 'the guardhouse of the bloodiest valley in Britain'.
A 14th-century owner was William de Soulis, who was said to be a witch and was accused of kidnapping children and using their blood in dark magical practices. His ghost is said to haunt the castle, but it is not alone for Hermitage Castle is said to be among the most haunted places in Britain. Mary's ghost is also said to haunt the castle ruins.
Near the castle is a 14th-century ruined chapel where you will find the grave of a giant named Cout o' Keilder. The giant was said to have terrorised the region before he was drowned in the nearby river.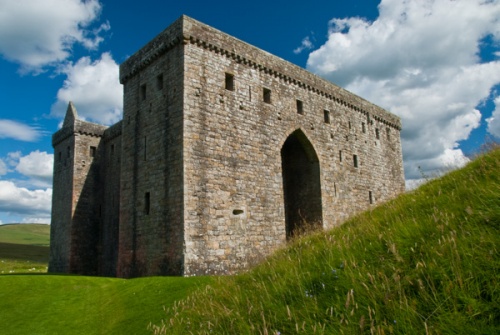 ---
Craigmillar Castle, Lothian
Craigmillar is an early 15th-century L-plan tower house on the outskirts of Edinburgh. In 1566 Mary became ill following the birth of her son James (the future James VI of Scotland) and she came to Craigmillar Castle to rest and recuperate.
At least, that was the official version of events. Another version suggests that Mary fled to Craigmillar after the murder of her secretary David Rizzio.
During her stay a secret pact known as the Craigmillar Bond was formed. The Bond was an agreement to kill Mary's husband, Lord Darnley, who had taken part in Rizzio's murder. To this day we do not know if Mary was aware of the Bond or not.
The highlight at Craigmillar Castle is Queen Mary's Room, where the queen is said to have slept during her stay.
---
Loch Leven Castle, Kinross
When Mary's army was defeated at the Battle of Carberry Hill, the queen was imprisoned at Loch Leven Castle in Kinross. The 14th-century castle stands on an island in the middle of Loch Leven.
Here on 24 July 1567 Mary was forced to abdicate in favour of her son, James VI. Her enemies declared that the queen was kept at Lochleven Castle for her own safety, a claim that fooled no one.
She remained a prisoner here for 18 months and during that time she tragically miscarried twins, probably fathered by the Earl of Bothwell. Her ghost is said to haunt the castle ruins, searching in vain for her dead children.
Another version of the story says that she gave birth to a healthy daughter who was smuggled overseas to safety in France.
In a dramatic episode In May 1568, Mary was smuggled off the island in the dead of night and whisked away by her supporters. It was a temporary respite, however, for within a few weeks her army was defeated at the Battle of Langside and she was forced to flee into exile - and eventual death - in England.
You can see the chamber set aside for Mary's bedroom and the tower house used by the laird and his family. Beside the tower house is the great hall where Mary came in 1563 as a visitor. Here in the great hall she held her famous debate with religious reformer John Knox.
---
Dundrennan Abbey, Dumfries and Galloway
Dundrennan Abbey is a 12th-century Cistercian monastery founded by Fergus, the first Lord of Galloway, as a daughter house of Rievaulx Abbey in Yorkshire. It is perhaps the best-preserved Cistercian monastery in Scotland and features superb early Gothic architecture.
Mary came here on 15 May 1586, after her defeat at the Battle of Langside. She spent the night at Dundrennan and in the morning she crossed the Solway to England, hoping for shelter and aid from her cousin, Elizabeth I of England.
Elizabeth and her advisors were far too aware of the political pitfalls of supporting Mary's bid to reclaim her throne, and her refuge became a prison. The queen's stay at Dundrennan was the last night she ever spent in Scotland.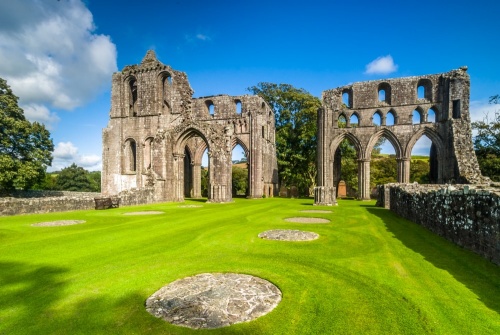 ---
And for a little added bonus, here are several more places strongly linked to Mary, Queen of Scots across the border in England.
Places in England
---
Bolton Castle, Yorkshire
Bolton Castle is an imposing medieval fortress at the entrance to Wensleydale. It was begun by Richard le Scrope in 1378. Scrope acted as Lord Treasurer and Lord Chancellor to Richard II, and was one of the most powerful men in 14th-century England.
Mary, Queen of Scots was imprisoned here after her escape from Scotland. It was not a harsh imprisonment; Mary was given a range of chambers in the south-west tower. She had the best suite of rooms in the castle and was supported by a household of 51 people.
The castle did not have furnishings suited to a queen's household so furniture and tapestries were borrowed from nearby wealthy homes. Queen Elizabeth I contributed some pewter tableware and a kettle from her own royal household.
The queen was allowed to hunt and permitted to meet local Catholics. Lord Scrope was later reprimanded for his lenient treatment of Mary. The queen stayed at Bolton Castle from July 1568 until January 1569 when she was taken to Tutbury Castle in Staffordshire. There she would spend the next of the next 18 years as a prisoner.
---
Tutbury Castle, Staffordshire
Tutbury Castle was begun shortly after the Norman Conquest. That first castle was no more than a motte and bailey set on a high ridge over the River Dove. It was besieged several times over the following centuries until it was seized by Henry IV as a royal fortress.
Mary, Queen of Scots was imprisoned here on four separate occasions over the span of 18 years. During her fourth stay at Tutbury Mary was implicated in the Babington Plot to overthrow Queen Elizabeth I. This was the final straw that convinced Elizabeth to order Mary's execution.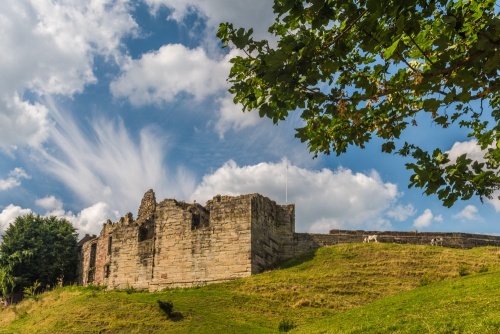 ---
Fotheringhay Castle, Northamptonshire
Only the earthworks and the conical motte remain of Fotheringhay Castle, standing on level ground above the peaceful River Nene. The castle was founded around 1100 AD by Simon de St Liz (Senlis), Earl of Northampton and Huntingdon.
Mary, Queen of Scots was brought to Fotheringhay in 1586 to stand trial for treason. The trial was only for appearances; the verdict was already determined. The trial took place on 14 and 15 October 1587 and the verdict was announced on 25 October.
Elizabeth I was initially reluctant to sign the death warrant, but she eventually gave in to pressure from her advisors and on 8 February 1588 Mary, Queen of Scots was executed in the great hall of Fotheringhay Castle.
---
Westminster Abbey, London
Mary's body was left on view at Fotheringhay until July and her body was finally interred at Peterborough Cathedral. When Mary's son James took the throne as James I of England he had his mother's body transferred to Westminster Abbey and buried in Henry II's chapel. Her tomb is noticeably slightly larger than Elizabeth I's.
OTHER PLACES
Places of secondary importance in Mary's life in both England and Scotland. For example, places she slept or visited briefly.
Abbotsford, Borders
Author Sir Walter Scott's house. Scott collected historical objects from Scottish history, among them the keys to Lochleven Castle, thrown into the loch after Mary, Queen of Scots escaped from her island prison.
Callendar House, Central Scotland
Mary, Queen of Scots stayed here on a state visit. The queen slept in the laird's chamber on the second floor.
Canongate Kirk, Edinburgh, Lothian
Mary's murdered secretary, David Rizzio, is said to have been buried here following his murder at nearby Holyroodhouse.
Carlisle Castle, Cumbria
Mary's first prison in England. The queen was held for several weeks in the Warden's Tower, later known as Queen Mary's Tower.
Craignethan Castle, Strathclyde
Mary sheltered here before the battle of Langside in 1568.
Crookston Castle, Strathclyde
Once owned by the Stuarts of Darnley. The queen may have stayed here with Henry Darnley, her second husband, and they may have become engaged to be married at Crookston.
Delgatie Castle, Aberdeenshire
Mary, Queen of Scots stayed here for three days in 1562 and you can visit her bedchamber.
Dunnottar Castle, Aberdeenshire
Mary came here twice; in 1562 and again in 1564 when she was accompanied by her young son, the future James VI of Scotland.
Fast Castle, Borders
Mary stayed here in 1566.
Findlater Castle, Moray
Sir John Gordon refused to let Mary enter the castle. She sent armed men to seize the castle but Gordon repulsed the attack. He was captured at the Battle of Corrichie and executed for treason.
Glenluce Abbey, Dumfries and Galloway
Mary is known to have visited the abbey, as did Robert Bruce.
Hailes Castle, Lothian
When James Hepburn, 4th Earl of Bothwell kidnapped Mary in 1567 they stayed at Hailes Castle on their way to Dunbar Castle.
Lochmaben Castle, Dumfries and Galloway
Mary stayed here in 1565 with her second husband, Lord Darnley.
Oxburgh Castle, Norfolk
See needlework hangings stitched by Mary while she was held in custody by the Earl of Shrewsbury.
Peterborough Cathedral, Cambridgeshire
On the south side of the cathedral chancel is a memorial commemorating Mary's burial here following her execution at Fotheringhay Castle.
Scone Palace, Perthshire
The traditional coronation place of Scottish monarchs (Mary was, however, crowned at Stirling Castle, as was her son James). See pieces of embroidery stitched by Mary, Queen of Scots.
Southwick Hall, Northamptonshire
Legend says that Mary, Queen of Scots burial certificate is hidden behind a wall somewhere inside Southwick Hall.
St Giles Cathedral, Edinburgh, Lothian
The Scottish Parliament met here, and Mary likely attended Parliamentary gatherings.
Temple Newsam House, Yorkshire
The birthplace of Lord Darnley, Mary's ill-fated second husband.
Wingfield Manor, Derbyshire
Mary was imprisoned here twice (in 1569 and 1584-5).
---
Have we missed anyplace? Let us know!
Best of Britain Express Art Prints