Aberffraw Bay Heritage Coast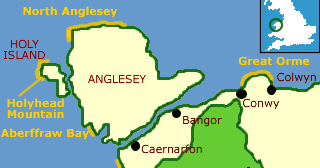 Description
The town of Aberffraw holds an exalted place in Welsh history that seems at odds with its present existence off the beaten track. In the 6th century the Royal Court of Maelgwyn, King of Gwynedd. The royal palace here remained intact until 1316, when its timbers were used to repair Caernarfon Castle.
Aberffraw was once an important port, but the estuary gradually silted up, leaving the present coastline of sand dunes. The dunes range as high as 30 feet and more. The sculptured sand is stabilised by marram grass near the sea, and patches of sea holly can be found in autumn. The buildup of dunes has also created the inland lake of Llyn Coron.
Near Aberffraw village is the sea-bound church of Saint Cwyfan. The church dates back to the 7th century, though the present structure is largely Victorian. Erosion gradually cut the church off from the mainland, though a 19th-century sea wall protected it from damage. This "church in the sea" still holds services in the summer months.
There are public footpaths from Aberffraw itself following the river and through the dunes to the beach, which is one of the cleanest in Wales. The seasonal Countryside Centre at Llys Llywelyn has visitor facilities and an interpretive exhibition on the coast.
Area Countryside attractions:
Anglesey AONB
This Area of Outstanding Natural Beauty takes in almost the entire coastline of the Isle of Anglesey. Steep limestone cliffs and sandy beaches on the island's east shore contrast with rolling sand dunes in the southwest.
Holyhead Breakwater Country Park
A disused quarry just outside Holyhead has been transformed into a walker's paradise of nature trails, with a large seabird population and an interpretive centre for visitors.<
Henblas Country Park
A good place for a family day out - Henblas has sheepdog and falconry displays, pony rides, and an indoor adventure playground.
Contact
Countryside Centre
Chapel St
Aberffraw
Ty Croes
LL63 5BQ
Best of Britain Express Art Prints