The Face of Britannia - Frances Stuart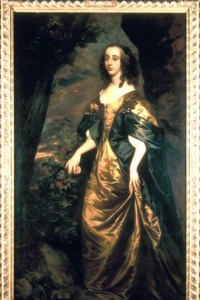 Her blue eyes flashed as she tossed her golden-brown curls. It was hard to sit still for her portrait. Frances' thoughts were racing with the excitement and honour of knowing her likeness would be engraved on a special medal. And all because she had captured the heart of King Charles II.
Immortality would follow for Frances Teresa Stuart, a Scots woman, whose profile was to depict Britannia, the stirring symbol of Great Britain, on the nation's coinage. (Her portrait appeared on British pennies until 1971 when the decimal system was introduced.)
Celebrated diarist Samuel Pepys, a keen observer of women, wrote of Frances' striking looks, "But it was the finest sight to me". . . . . .that ever I did see in all my life. . . . . .Miss Stuart. . . . . .is now the greatest beauty I ever saw, I think, in my life. . . . . .". She became known at court as "La Belle Stuart".
But how did Frances reach this point in her life? Her unusual story began with her family's flight to freedom and safety in France during the English Civil War. Her father, the Honourable Walter Stuart, third son of the first Lord Blantyre, was distantly connected with the royal House of Stuart. The family supported their claims to the throne during the Civil War and ended up taking refuge at the French court of the widowed Queen Henrietta Maria.
The austere court with its convent-like atmosphere was home to Frances from the age of one. However, fortune had something special in store for her. Her world changed dramatically when, in 1660, Britain's monarchy was restored to power and Charles II was crowned king.
Charles was keen to embrace gaiety and frivolity at his court, especially in the form of pretty young women. The King's sister, the Duchess of Orleans, had watched Frances grow up at the French Court and felt she fitted the bill. Thus the Duchess sent a fateful letter to her brother, the King, recommending Frances as the loveliest girl in the world and fitted to adorn his new court.
In 1662, at age 14, Frances travelled to England to become a Maid of Honour to Charles II's Queen, the Infanta of Portugal, Catherine of Braganza.
When the King saw Frances, it was love at first sight on his part. She was graceful, beautiful, frivolous, a superb dancer with impeccable dress sense. She laughed at his jokes, was easy to amuse and never dabbled in politics or intrigue. She was all the merry monarch desired, but Frances was not all she seemed as he was to find out.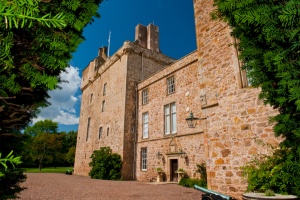 For Frances was a romantic at heart. Love ruled her feelings, not physical passion. Flirting and teasing, she led the King on, encouraging him with her smiles and kisses. This only inflamed his desire for her, and he pursued her relentlessly.
Gossip abounded among courtiers about their relationship, fueled by the fact that there was no proof of its being physically consummated. This was an unusual situation because, at this time in history, beautiful virgin girls were expected by high society to share their favours.
In Frances' mind, she had nothing to gain by submitting to the King's amorous advances. She already possessed the friendship and protection of the Queen and the admiration of the Court due to her good nature and looks. She was an active participant in all the parties and dances, was pursued by all the eligible males at Court, and, in spite of her resistance to his royal lust, remained Charles' favourite.
Rumours ran even more rampant when the Queen developed a high fever in 1663 and was thought to be dying. Would the King marry Frances if the Queen died? However, the Queen eventually recovered, and Frances continued to dally with Charles as his passion for her raged even more strongly.
In 1664, England, at war with the Dutch, won several naval victories. Charles II decided to celebrate by having several medals struck. A figure of Britannia contemplating her victories was to adorn the medals, and the King chose Frances for the model. Thus she secured her place in history by posing for this famous engraving.
Pepys wrote in his diary, "At my goldsmith's did observe the King's new medal, where, in little, there is Mrs Stewart's face as well done as ever I saw anything in my whole life, I think: and a pretty thing it is, that he should choose her face to represent Britannia by."
That medal was not the only portrait for which Frances posed. The Plague struck London, and, along with the rest of the Court, she fled to Hampton Palace. During this time Sir Peter Lely painted a famous series known as the "Beauties". His well-known portrait of Frances shows her in pale yellow sitting with a bow in her hand, the emblem of Diana, the chaste huntress, a fitting metaphor.
Returning to London after the city was declared safe from the Plague, the King continued to press Frances to be his mistress, offering her land and wealth and position. The pressure on her mounted. As her position became precarious, she felt there was no choice-either become Charles' mistress or find a husband.
Providentially, she met another Charles Stuart, a distant relative and 4th cousin of the King. This Charles was the 4th Duke of Richmond and 6th Duke of Lennox. He was extravagant, an inveterate gambler and a drinker, but Frances saw him as a convenient way out of her fraught relationship with the King.
When the King learned of their wedding plans, he schemed to stop them. The couple retaliated by eloping. Learning of their marriage, the King realized Frances had deceived him and angrily vowed never to forgive or see her again. On her marriage, Frances acquired the title Duchess of Richmond and Lennox.
Ironically, although out of favour with the King, it was at this time that Frances received her greatest honour. The portrait of her from the Britannia medals was chosen for new coins being struck. Thus, a Scottish woman graced not only medals commemorating a naval victory, but also the coinage of the Realm.
About 1669 the King's infatuation with Frances was again demonstrated when she became seriously ill with smallpox. Charles rushed to her bedside and forgave her for marrying without his consent. She recovered, and the King allowed the Queen to appoint her a Lady of the Bedchamber. At this point the relationship between Frances and the King changed to one of friendship. Charles had fallen for the charms of Nell Gwynne.
When the King sent Frances' husband to Denmark as an ambassador, she stayed at home, managing his estate and business affairs. She became an astute businesswoman, wise in the ways of money management, cautious and full of common sense.
After the death of her husband in the 1670s, and without children or a male her, Frances' husband's estates reverted back to the King. He continued to be her good friend and granted her a 1000-pound pension per year for life. Before she died in 1702 Frances arranged to purchase the estate of Lethington, south of Haddington in the Lammermuir Hills of East Lothian, Scotland.
In memory of her title as Duchess of Lennox she requested the estate's name to be changed to Lennoxlove. Today it continues as a memorial to her. Her portrait by W. Wissing and J.Van der Vaart hangs in a place of honour in the manor house. The blue eyes still flash in her beautiful face, capturing the hearts of all who pass by.
Related:
Lennoxlove House
Stately Homes in Scotland
Charles II
©2000 Barbara Ballard. Reproduction of this work in whole or in part, including images, and reproduction in electronic media, without documented permission from the author is prohibited.
Best of Britain Express Art Prints