Black Linn Falls, Perthshire Prints
Beautiful photos of England, Scotland, and Wales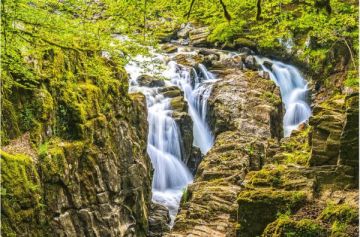 The Story Behind the Image - Black Linn Falls, The Hermitage, Perthshire

The Hermitage is a beautifully landscaped woodland near Dunkeld, Perthshire. The woodland was laid out in the 18th century by the Dukes of Atholl, who intended it as a pleasure ground for their property of Dunkeld House.
Throughout the woodland, they built picturesque follies such as Ossian's Cave, a mysterious manmade cave. One folly was known as Ossian's Hall. It stands above the beautiful waterfall known as Black Linn Falls on the River Braan.
Beside the viewing platform is Hermitage Bridge. If you follow a trail through an archway in the bridge you emerge onto slippery rocks directly in front of the waterfall.
That's the view seen here. I've photographed the Falls several times, but this is probably my favourite view.
---
Britain Express UK Image Shop
Our online shop offers canvas prints, framed prints, metal prints, acrylic prints, posters, iPhone cases, Galaxy cases, and greeting cards of UK scenes, specialising in historic sites and traditional locations around England, Scotland and Wales.
We've chosen Fine Art America to host our shop. FAA is the largest worldwide print-on-demand service and offers a wide variety of printed image products from 14 fulfilment centres in 5 different countries.
You can order in a wide variety of currencies (euros, Japenese yen, American, Canadian and Australian dollars), and products ship in 2-3 business days.