River Tay, Dunkeld, Perthshire Prints
Beautiful photos of England, Scotland, and Wales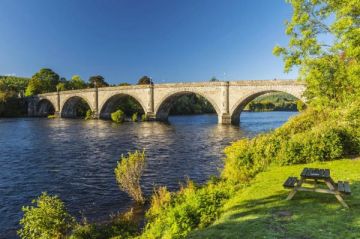 The Story Behind the Image - River Tay, Dunkeld, Perthshire
The iconic 18th-century bridge designed by Thomas Telford for the Duke of Atholl spans the peaceful River Tay and Dunkeld, Perthshire.
A picnic table stands on the north bank of the river looking towards the bridge. I came across this view by complete accident.
I came to Dunkeld in the early morning to photograph the Atholl Memorial Fountain and Dunkeld Cathedral. As I crossed the bridge I saw a sign for public parking so I turned onto Boat Road, which runs parallel to the River Tay, and found a parking area with spaces.
As I was walking from the car park towards the Cathedral I passed a small public space with a lawn leading down to the river bank. On instinct, I walked down to the river and discovered this lovely view of the bridge.
---
Britain Express UK Image Shop
Our online shop offers canvas prints, framed prints, metal prints, acrylic prints, posters, iPhone cases, Galaxy cases, and greeting cards of UK scenes, specialising in historic sites and traditional locations around England, Scotland and Wales.
We've chosen Fine Art America to host our shop. FAA is the largest worldwide print-on-demand service and offers a wide variety of printed image products from 14 fulfilment centres in 5 different countries.
You can order in a wide variety of currencies (euros, Japenese yen, American, Canadian and Australian dollars), and products ship in 2-3 business days.