Praying Hands, Glen Lyon, Perthshire Prints
Beautiful photos of England, Scotland, and Wales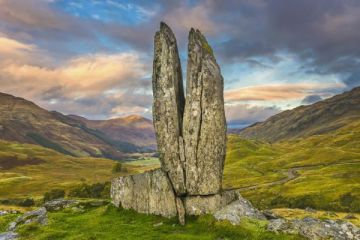 The Story Behind the Image - Praying Hands, Glen Lyon, Perthshire
The Praying Hands is a striking rock formation in the heart of Glen Lyon, Perthshire. The natural formation consists of a verticle rock split in two, like a pair of hands clasped in prayer.
The Praying Hands (sometimes known as Fingal's Rock) can only be reached by a stiff hike up Gleinn Da-Eigg from the hamlet of Balmenoch, near Camusvranach.
The Praying Hands is linked in Gaelic culture to the mythical folk hero Fionn mac Cumhaill (Finn McCool).
Fionn mac Cumhaill is said to have fired an arrow with such force that it split the rock into two pieces, giving us the Praying Hands.
I have photographed the rock formation on several occasions. The first time I misread my guidebook and assumed that the best time of day to photograph the rock was at dawn. That did give me a reasonable photo, but it didn't give me this lovely view looking east down Glen Lyon.
I had to return that same evening and stand in the rain for 45 minutes to get this view!
---
Britain Express UK Image Shop
Our online shop offers canvas prints, framed prints, metal prints, acrylic prints, posters, iPhone cases, Galaxy cases, and greeting cards of UK scenes, specialising in historic sites and traditional locations around England, Scotland and Wales.
We've chosen Fine Art America to host our shop. FAA is the largest worldwide print-on-demand service and offers a wide variety of printed image products from 14 fulfilment centres in 5 different countries.
You can order in a wide variety of currencies (euros, Japenese yen, American, Canadian and Australian dollars), and products ship in 2-3 business days.