Falls of Bruar, Perthshire Prints
Beautiful photos of England, Scotland, and Wales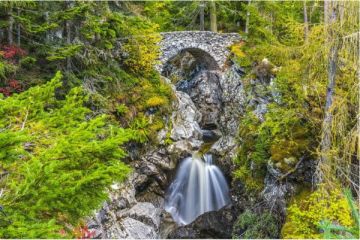 The Story Behind the Image - Falls of Bruar, Perthshire

The Falls of Bruar is one of my favourite places to photograph in Perthshire. The Falls are relatively easy to reach; they can be found via a footpath along Bruar Water from the House of Bruar shopping complex on the A9 just west of Blair Atholl.
The Falls of Bruar has drawn tourists since at least the 18th century. One of those tourists was poet Robert Burns, who, after visiting suggested to the Duke of Atholl that he could enhance the natural beauty of the waterfall by planting trees along the river bank.
The Duke eventually got around to it, but only after Burns' death, so the beautiful woodland we see today is dedicated to Robert Burns.
There are actually two waterfalls, Lower and Upper. This is the Lower Falls, seen from a viewing platform just south of a picturesque bridge over the Falls erected by the Duke of Atholl as part of his Burns-inspired beautification scheme.

---
Britain Express UK Image Shop
Our online shop offers canvas prints, framed prints, metal prints, acrylic prints, posters, iPhone cases, Galaxy cases, and greeting cards of UK scenes, specialising in historic sites and traditional locations around England, Scotland and Wales.
We've chosen Fine Art America to host our shop. FAA is the largest worldwide print-on-demand service and offers a wide variety of printed image products from 14 fulfilment centres in 5 different countries.
You can order in a wide variety of currencies (euros, Japenese yen, American, Canadian and Australian dollars), and products ship in 2-3 business days.