Kenmore and Loch Tay, Perthshire Prints
Beautiful photos of England, Scotland, and Wales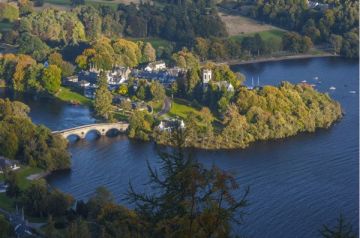 The Story Behind the Image - Kenmore and Loch Tay, Perthshire
This wonderful view shows Kenmore and Loch Tay from Drummond Hill, Perthshire. Kenmore is a delightful village at the eastern end of Loch Tay, a few miles west of Aberfeldy. You can see the historic parish church lit by the late evening sunlight in the photo.
I had seen photos of this view online and felt inspired to see if I could take a good photo of the same scene.
I was almost derailed by my car getting an unexpected flat tire, but I managed to put on the temporary tire that we had in the boot and drove to the Forestry Commission Scotland parking area at Drummond Hill.
From there it was a very steep walk up to the viewpoint, and I only managed to arrive in time to take a half dozen shots before the sun disappeared for good. It was worth it!
---
Britain Express UK Image Shop
Our online shop offers canvas prints, framed prints, metal prints, acrylic prints, posters, iPhone cases, Galaxy cases, and greeting cards of UK scenes, specialising in historic sites and traditional locations around England, Scotland and Wales.
We've chosen Fine Art America to host our shop. FAA is the largest worldwide print-on-demand service and offers a wide variety of printed image products from 14 fulfilment centres in 5 different countries.
You can order in a wide variety of currencies (euros, Japenese yen, American, Canadian and Australian dollars), and products ship in 2-3 business days.