River Garry, Pass of Killiecrankie Prints
Beautiful photos of England, Scotland, and Wales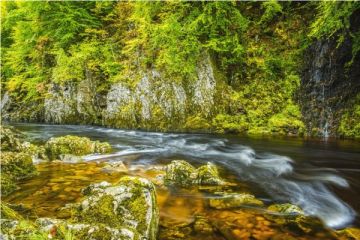 The Story Behind the Image - River Garry, Killiecrankie
The River Garry flows through a narrow gorge at Killiecrankie, near Pitlochry in the Perthshire Highlands. The gorge, sometimes known as the Pass of Killiecrankie, was the site of a bloody 1689 battle between Hanoverian troops and Jacobites led by John Graham of Claverhouse, Viscount Dundee (Bonnie Dundee).
The Jacobites emerged victorious, though their victory was shortlived. During the battle, one government soldier escaped from his enemies by jumping across the River Garry. The spot where he made his improbable escape is known as Soldier's Leap.
It is hard to imagine the Pass of Killiecrankie as a place of conflict today; it is such an incredibly peaceful and scenic location, especially in autumn when the leaves turn colour.
To get this photo I had to scramble down the bank beside the riverside path, and make my way to the water's edge on slippery rocks so I could set up my tripod beside the flowing water. It was worth it!
---
Britain Express UK Image Shop
Our online shop offers canvas prints, framed prints, metal prints, acrylic prints, posters, iPhone cases, Galaxy cases, and greeting cards of UK scenes, specialising in historic sites and traditional locations around England, Scotland and Wales.
We've chosen Fine Art America to host our shop. FAA is the largest worldwide print-on-demand service and offers a wide variety of printed image products from 14 fulfilment centres in 5 different countries.
You can order in a wide variety of currencies (euros, Japenese yen, American, Canadian and Australian dollars), and products ship in 2-3 business days.