Hampton Court Palace and the River Thames Prints
Beautiful photos of England, Scotland, and Wales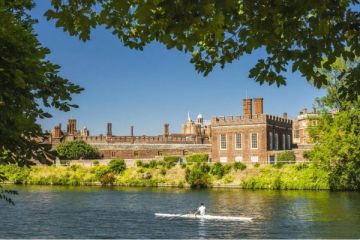 The Story Behind the Image - Hampton Court Palace & the River Thames
A solitary sculler rows along the River Thames in front of Hampton Court Palace on a sunny day in summer.
What I recall most about this photo was that despite it being an extremely hot summer day I had managed to come down with a dreadful cold and had to keep stopping so that I could desperately get at some tissues.

To get this image I crossed the bridge from the Palace to Hampton itself and took the footpath through the public garden opposite the Palace. I found a gap in the trees that offered me a wonderful view of the riverside frontage, and just as I was photographing the scene a group of rowers came along the river
I thought they would make a good bit of foreground interest but I wasn't completely happy with any of the photos I took until the very last rower appeared in a single scull. It was worth the wait!

---
Britain Express UK Image Shop
Our online shop offers canvas prints, framed prints, metal prints, acrylic prints, posters, iPhone cases, Galaxy cases, and greeting cards of UK scenes, specialising in historic sites and traditional locations around England, Scotland and Wales.
We've chosen Fine Art America to host our shop. FAA is the largest worldwide print-on-demand service and offers a wide variety of printed image products from 14 fulfilment centres in 5 different countries.
You can order in a wide variety of currencies (euros, Japenese yen, American, Canadian and Australian dollars), and products ship in 2-3 business days.