Palace of Westminster, London Prints
Beautiful photos of England, Scotland, and Wales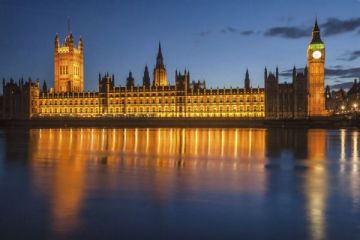 The Story Behind the Image - Palace of Westminster, London
Evening falls over the Palace of Westminster (The Houses of Parliament) and the River Thames in London, with Big Ben to the right. Technically, of course, Big Ben refers not to the tower nor to the clock, but to the hour bell.
I've photographed the Palace of Westminster several times at night and I never grow tired of this wonderful scene.
On this occasion, I arrived well before sunset and crossed Westminster Bridge to the far bank, across from the Palace. I set up my tripod beside the barrier and waited for night to fall and the illuminations to come on.
What I recall most vividly is a pair of policemen strolling by, then turning and strolling back. I did my best to look innocuous, and they left me in peace to enjoy the beautiful evening.
---
Britain Express UK Image Shop
Our online shop offers canvas prints, framed prints, metal prints, acrylic prints, posters, iPhone cases, Galaxy cases, and greeting cards of UK scenes, specialising in historic sites and traditional locations around England, Scotland and Wales.
We've chosen Fine Art America to host our shop. FAA is the largest worldwide print-on-demand service and offers a wide variety of printed image products from 14 fulfilment centres in 5 different countries.
You can order in a wide variety of currencies (euros, Japenese yen, American, Canadian and Australian dollars), and products ship in 2-3 business days.