London Prints
Beautiful photos of England, Scotland, and Wales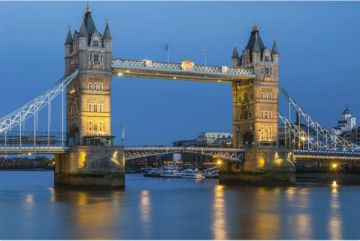 The Story Behind the Images - London
There are so many iconic historic sites to photograph in London that you can be spoilt for choice! I often return to the River Thames for cityscapes. Perhaps my favourite spot along the Thames is at Westminster Bridge, across the river from the Houses of Parliament.
Another favourite spot is on either side of the Thames at Tower Bridge. If you can catch the bridge in the evening light as the illuminations start it can be a magical sight. Or stand on the bridge itself for photos of the Tower of London.
My favourite area, though, is Greenwich. The wonderful historic buildings of the Old Royal Naval College are incredibly picturesque, especially from the Isle of Dogs on the far side. Then there is Greenwich Park; arrive early in the morning for wonderful views of the London skyline laid out before you.
On a rainy day, the best place I know is Leadenhall Market with its fabulous painted Victorian shops. It is best to arrive just as the Market opens or it can be hard to photograph due to the number of visitors.
Favourite Places to Photograph in London
Greenwich Park and Old Royal Naval College
Westminster Palace across the Thames
Leadenhall Market
Anywhere along the River Thames!
Tower Bridge in the evening light
---
Britain Express UK Image Shop
Our online shop offers canvas prints, framed prints, metal prints, acrylic prints, posters, iPhone cases, Galaxy cases, and greeting cards of UK scenes, specialising in historic sites and traditional locations around England, Scotland and Wales.
We've chosen Fine Art America to host our shop. FAA is the largest worldwide print-on-demand service and offers a wide variety of printed image products from 14 fulfilment centres in 5 different countries.
You can order in a wide variety of currencies (euros, Japenese yen, American, Canadian and Australian dollars), and products ship in 2-3 business days.