Tower Bridge and the River Thames, London Prints
Beautiful photos of England, Scotland, and Wales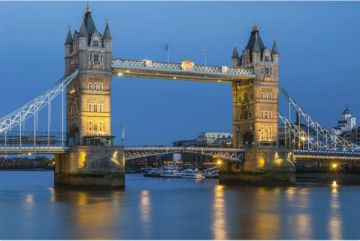 The Story Behind the Image - Tower Bridge and the River Thames
Historic Tower Bridge and the River Thames, illuminated as night falls on London. This photo was taken from just outside the Tower of London on the north bank of the Thames.
I arrived long before sunset, hoping to catch the moment just before night fell, with the bridge illuminations highlighting the towers and walkway, and yet with blue still in the evening sky.
I had to use a tripod for this photo obviously, which is not the easiest thing to carry on the London underground!

---
Britain Express UK Image Shop
Our online shop offers canvas prints, framed prints, metal prints, acrylic prints, posters, iPhone cases, Galaxy cases, and greeting cards of UK scenes, specialising in historic sites and traditional locations around England, Scotland and Wales.
We've chosen Fine Art America to host our shop. FAA is the largest worldwide print-on-demand service and offers a wide variety of printed image products from 14 fulfilment centres in 5 different countries.
You can order in a wide variety of currencies (euros, Japenese yen, American, Canadian and Australian dollars), and products ship in 2-3 business days.