Old Royal Naval College, Greenwich, London Prints
Beautiful photos of England, Scotland, and Wales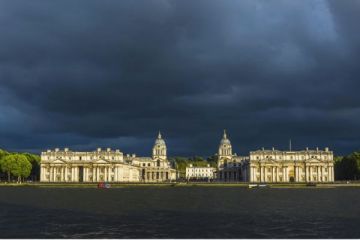 The Story Behind the Image - Old Royal Naval College, Greenwich, London
Dark storm clouds gather above the Old Royal Naval College in Greenwich, London. I love the ominous, dark clouds above the historic college buildings which are lit by wonderful late evening golden sunlight.
Some of my photos come about by meticulous planning, studying weather forecasts, calculating the time of day and angle of the sun. This was NOT one of those photos.

I was done with photography for the day, or so I thought. I was simply on my way back to the lovely flat I'd rented for two weeks in Greenwich and was looking forward to putting my feet up and relaxing after a very long day.
I emerged from the Greenwich DLR station to discover that golden late evening light was hitting Greenwich, even though black storm clouds were gathering above.
My fatigue forgotten, I raced for the underground pedestrian tunnel that leads from Greenwich to the Isle of Dogs on the far bank. I must have set speed records getting across the Thames to the Isle of Dogs, for the light was still there when I arrived.
I had time to set up my tripod and capture this wonderful scene before the light faded into evening.

It only lasted a few minutes, but what an amazing sight!
---
Britain Express UK Image Shop
Our online shop offers canvas prints, framed prints, metal prints, acrylic prints, posters, iPhone cases, Galaxy cases, and greeting cards of UK scenes, specialising in historic sites and traditional locations around England, Scotland and Wales.
We've chosen Fine Art America to host our shop. FAA is the largest worldwide print-on-demand service and offers a wide variety of printed image products from 14 fulfilment centres in 5 different countries.
You can order in a wide variety of currencies (euros, Japenese yen, American, Canadian and Australian dollars), and products ship in 2-3 business days.