Yorkshire Dales National Park
Aysgarth Falls, Yorkshire Dales
---
The sheep is the symbol of Yorkshire Dales National Park, and for good reason. This is sheep country, and the open fields are criss-crossed by patterns of dry stone walls marking the field boundaries. Small villages and farms cling to the sides of valleys and river banks, and the high ridge of the Pennine Range looms over the landscape.
Swaledale is the largest of the dales which make up the park, and the sheep which takes its name from this area grazes the high fells, while cattle occupy the river bottom.
There is excellent walking here, and in neighbouring Wensleydale. There is a visitor centre at Hawes, in addition to the Upper Dales Folk Museum.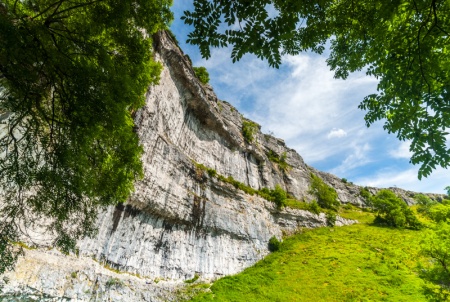 Malham Cove
---
Near Hawes is Hardraw Force, an impressive waterfall with a sheer drop of 100 feet. You can actually pass right behind the fall of water, or take the steep walk to the top of Great Shunner Fell, for superb views. Further west, Malham Cove boasts a huge natural amphitheatre, as well as the National Park Information Centre at Malham village, and several enjoyable circular walks to nearby Malham Tarn.
How many dales are there?
This question is not as easy to answer as you might think! It depends how you count them, whether you include small 'side' dales that run at tangents from larger dales, and whether you include dales that are only partly inside the National Park boundaries.
Most dales are named for the river that runs through them, such as Swaledale for the Rive Swale and Wharfedale for the River Wharfe. The major exception to this rule is Wensleydale, which is named for the village of Wensley at the eastern end of the dale rather than the River Ure which runs through the dale itself.
To answer the question of how many dales there are, we turn to the Yorkshire Dales National Park official information, which lists 10 dales and three valleys (Lune Valley, Ingleton Glens and the Rawthey Valley). The 'official 10 dales' are:
Arkengarthdale
Coverdale
Dentdale
Littondale
Malhamdale
Ribblesdale
Swaledale
Wensleydale
Widdale
Wharfedale
What to see:
Clapham: outstanding nature trail begun by Reginald Ferrer. The trail passes Ingleborough Cave, perhaps the finest in the North of England.
Aysgarth Falls: a wonderfully picturesque series of three waterfalls in preserved countryside
Bolton Abbey: scenic ruins beside the River Wharfe
Southerdale Scar: Wildlife reserve with fascinating limestone pavements
Malham Cove: a natural amphitheatre
Hardraw Force: a waterfall with the longest unbroken drop in the north (100 feet)
---
Contact:
Yorkshire Dales National Park Authority
Yoredale, Bainbridge
Leyburn
North Yorkshire
DL8 3EL
OR

Yorkshire Dales National Park Authority
Colvend
Grassington
Skipton
North Yorkshire
BD23 5LB
website
Related:
Yorkshire Travel Guide
Northeast England
Best of Britain Express Art Prints
Attraction search