James Wyatt biography
1746-1813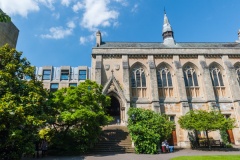 One of the most popular and influential architects of his age, James Wyatt was the most prominent of a large family of architects and designers. Born in 1746, James was the son of Benjamin Wyatt, a builder and merchant who also tried his hand occasionally at architecture.
In 1762 Wyatt went to Italy, where he spent the next 6 years training in painting and draughtsmanship. On his return to London Wyatt was given the commission to build the Pantheon in Oxford Street. The Pantheon was a what today might be called a 'concert venue'. Wyatt designed a galleried hall on a basilican plan, topped by an imposing cupola. The Pantheon proved an enormous success and as a consequence Wyatt found himself much in favour among the nobility.
Wyatt's designs were very adaptable to the whims of his patrons. As a result he found himself frequently designing in the style of Robert Adam, who was then at the summit of his fame in high society. Adam did not see Wyatt's designs as flattery, however, but as out and out plagiarism, a fact he noted in his 1773 book, Works in Architecture.
But Wyatt did far more than produce copies of Adam's Palladian extravaganzas; he often built in more Romanesque classical style. Later on in his career, he turned to medieval Gothic as a major influence, thus paving the way for the wave of Gothic romantic architecture that culminated in the Gothic Revival period during the middle and later 19th century. He also experimented in Greek classical style towards the end of his career.
In 1792 Wyatt was appointed Surveyor-General, a post which essentially made him the most prominent architect in the country. So popular did Wyatt become - and so overwhelmed with commissions - that his clients began to mutter that he did not give his work adequate attention.

Among the more well known of his house commissions were those at Lee Priory, Kent, Bishop Auckland Castle, County Durham, and Belvoir Castle, Leicestershire. Unfortunately, some of Wyatt's best work, like that at Lee Priory, was swept away by later rebuilding as fashions changed. Wyatt would have no cause to complain if his work was altered or destroyed, for it was something he himself was guilty of. In fact, so enthusiastically did Wyatt sweep away vestiges of medieval Gothic, particularly in his restoration work on the cathedrals of Salisbury, Durham, and Hereford, that he earned the moniker, 'Wyatt the Destroyer'.

James Wyatt died in 1813, but his legacy lived on in subsequent members of his family who went on to become well-known architects. Among these was Jeffry Wyatt, James's nephew, who was responsible for rebuilding large portions of Windsor Castle.

To see in Britain:

Ashridge Park, Hertfordshire
Balliol College, Oxford (library and hall)
Ragley Hall, Warwickshire
Dodington Park, Gloucestershire
Heveningham Hall, Suffolk
Attraction search