Robert Adam
The name of Robert Adam may not be a household word (at least not outside the UK), but if you want to visit stately homes throughout Britain you will inevitably and repeatedly meet up with it. So I've chosen to include a page in this section of British History to outline the career of this remarkable Scotsman who had so much influence on Georgian art and architecture on both sides of the England/Scotland border.
Robert Adam was born in Kirkcaldy in the Kingdom of Fife in 1728, the son of a stonemason. He moved to Edinburgh at the age of 11, where his father William became the pre-eminent architect in Scotland. Robert attended Edinburgh University, but he never did graduate, due to the twin spectres of illness and The '45 Jacobite rebellion (see Bonnie Prince Charlie). When Robert was just 20 his father died and the young man joined the family architectural firm, which became known as Adam Brothers.
The Grand Tour
After a few short years of practice, Robert left on an extensive "Grand Tour" of France and Italy, where he studied classical Roman ruins and learned drafting and drawing skills. When he returned he moved to London and hung out his shingle as a practising architect. It did not take him long to become the fashionable architect of the high society set.
Palladianism and Adam's rebellion
England at that time was undergoing a surge of interest in classical architecture, prompted by the "Palladian" movement, named after the Renaissance architect Andrea Palladio, who tried to recreate the style and proportions of the buildings of ancient Rome. Adam built upon this momentum, but he soon evolved a style all his own that can best be described as "neo-classical"; light, elegant lines unbound by strict classical proportion.
In fact, Adam was something of a rebel against the Palladians, who insisted on following strict Roman lines and proportion. They copied; Adam innovated and experimented, and the result was a body of work that approached genius.
Early work
His first successes were the Admiralty Arch at Whitehall, and the interior apartments at Hatchlands. Adam was most often asked to remodel existing houses, so much of his work is interior. Of the exteriors for which he was responsible, Bowood House and the Admiralty Arch are the best surviving examples.
Adam was a success in part because he insisted on designing everything himself, down to the tiniest detail. The result is work that has a sense of overall unity, or flow. He moved beyond the Roman classical style and borrowed heavily from Greek, Byzantine, and Italian Baroque influences.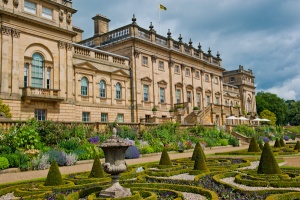 Robert Adam died in 1792 at the age of 64. Some of his work was replaced or remodelled as fashions in interior decoration changed over the next centuries, but enough remains that his legacy cannot be forgotten.
Best work
Some of his best surviving work can be seen at Syon House, Kedleston Hall, Harewood House, Osterley, Kenwood, Bowood, Croome Court, Mersham-le-Hatch, Newby Hall, Nostell Priory, and the mock medieval Culzean Castle. Adam was also the author of two widely read books on architecture, and his style was widely imitated, notably by James Wyatt, whose work irritated Adam immensely.
Related:
Back: Landscape Gardens
Next: Country Houses
Attraction search