Gothic Revival Architecture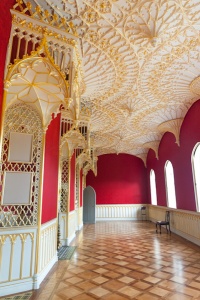 The term "Gothic Revival" (sometimes called Victorian Gothic) usually refers to the period of mock-Gothic architecture practised in the second half of the 19th century. That time frame can be a little deceiving, however, for the Gothic style never really died in England after the end of the medieval period.
Throughout the 17th and 18th centuries, when classical themes ruled the fashion-conscious world of architecture, Gothic style can be seen, if intermittently. This is because many architects were asked to remodel medieval buildings in a way that blended in with the older styles.
Christopher Wren, the master of classical style, for example, added Gothic elements to several of his London churches (St. Michael, Cornhill, and St. Dunstan-in-the-East). William Kent's gatehouse at Hampton Court Palace (1723) fit in flawlessly with Cardinal Wolsey's original Tudor Gothic. When Nicholas Hawksmoor remodelled the west towers at Westminster Abbey (from 1723) he did so in a sympathetic Gothic style.
In the late 18th century, running in parallel, as it were, with raging classicism, was a school of romanticized Gothic architecture, popularized by Batty Langley's pattern books of medieval details. This medieval style was most common in domestic building, where the classical style overwhelmingly prevailed in public buildings.
One of the prime movers of a new interest in Gothic style was Horace Walpole. Walpole's country house at Strawberry Hill, Twickenham (1750), was a fancifully romantic Gothic cottage. The style adopted by Walpole (termed, not surprisingly, "Strawberry Hill Gothic"), took many of the decorative elements of exterior medieval Gothic and moved them to the interior of the house. Thus, Walpole's rooms are adorned - some might say over-adorned - with touches like cusped ceilings and crocketed arches.
Little of Walpole's style is what you could call "authentic"; he merely took decorative touches and strewed them about with abandon. The controversial result is very much open to criticism; you either love it or hate it, but few people are ambivalent about it.
Other architects tried their hand at Gothic style. Even Robert Adam, the master of neo-classical country house architecture, used Gothic elements, for example at Culzean Castle, where the exterior crenellation recalls a medieval fortress.
James Wyatt was the most prominent 18th-century architect employing Gothic style in many of his buildings. His Ashridge Park (Hertfordshire), begun in 1806, is the best surviving example of his work. At Ashridge, Wyatt employed a huge central hall, open to the roof, in conscious imitation of a medieval great hall.
Into the early years of the 19th century many architects dabbled in Gothic style, but as with Walpole, it was more the decorative touches that appealed to them; little bits of carving here, a dab of pointed arch there.
Most paid scant heed to authentic proportion, which is one of the most powerful moving forces of "real" Gothic style. Even when the shapes used by builders were Gothic, the structure was not. Columns and piers were made with iron cores covered over with plaster.
In the early 19th century Gothic was considered more suitable for church and university buildings, where classical style was thought more appropriate for public and commercial buildings. Good examples of university Gothic can be seen at Cambridge, for example, the Bridge of Sighs at St. John's College (1826) and the gateway at King's College (1822-24).
It is really only after 1840 the Gothic Revival began to gather steam, and when it did the prime movers were not architects at all, but philosophers and social critics. This is the really curious aspect of the Victorian Gothic revival; it intertwined with deep moral and philosophical ideals in a way that may seem hard to comprehend in today's world.
Men like A.W. Pugin and writer John Ruskin (The Seven Lamps of Architecture, 1849) sincerely believed that the Middle Ages was a watershed in human achievement and that Gothic architecture represented the perfect marriage of spiritual and artistic values.
Ruskin allied himself with the Pre-Raphaelites and vocally advocated a return to the values of craftsmanship, artistic, and spiritual beauty in architecture and the arts in general. Ruskin and his brethren declared that only those materials which had been available for use in the Middle Ages should be employed in Gothic Revival buildings.
Even more narrow-minded than Ruskin were followers of the "ecclesiological movement", which began in the universities of Oxford and Cambridge. Adherents of the ecclesiological movement believed that only the Gothic style was suitable for church architecture, but not just any Gothic style!
To them, the "Middle Pointed" or Decorated style prevalent in the late 13th to mid 14th century was the only true Gothic. The bible of the movement was the monthly publication, The Ecclesiologist, which was published from 1841-1868. The publication was in essence a style-guide to proper Gothic architecture and design.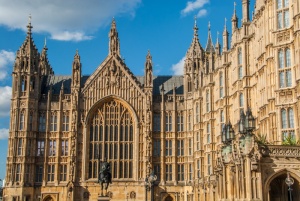 But all this theory needed some practical buildings to illustrate the ideals. The greatest example of authentic Gothic Revival is the Palace of Westminster (The Houses of Parliament). The Palace of Westminster was rebuilt by Sir Charles Barry and A.W. Pugin after a disastrous fire destroyed the old buildings in 1834. While Barry oversaw the construction, much of the design is Pugin's, a design he carried out in exacting Perpendicular Gothic style inside and out.
The period from 1855-1885 is known as High Victorian Gothic. In this period architects like William Butterfield (Keble College Chapel, Oxford) and Sir George Gilbert Scott (The Albert Memorial, London) created a profusion of buildings in varying degrees of adherence to strict Gothic style. High Victorian Gothic was applied to a dizzying variety of architectural projects, from hotels to railroad stations, schools to civic centres. Despite the strident voice of the Ecclesiological Society, buildings were not limited to the Decorated period style but embraced Early English, Perpendicular, and even Romanesque styles.
Were the Gothic Revivalists successful? Certainly the Victorian Gothic style is easy to pick out from the original medieval. One of the reasons for this was a lack of trained craftsmen to carry out the necessary work. Original medieval building was time-consuming and labour-intensive. Yet there was a large pool of labourer's skilled in the necessary techniques; techniques which were handed down through the generations that it might take to finish a large architectural project.
Victorian Gothic builders lacked that pool of skilled labourers to draw upon, so they were eventually forced to evolve methods of mass-producing decorative elements. These mass-produced touches, no matter how well made, were too polished, too perfect, and lacked the organic roughness of original medieval work.
---
Major Gothic Revival buildings to see in England:
Strawberry Hill, Twickenham
Exeter College Chapel, Oxford
Scarisbrick Hall, Lancashire
Keble College, Oxford
Palace of Westminster, London
Albert Memorial, London
Related:
AW Pugin
Best of Britain Express Art Prints