Eleanor Crosses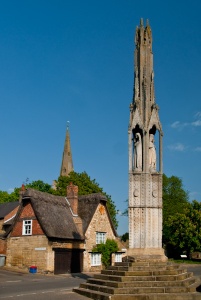 Have you heard of Charing Cross, in London? Most people know it as a major train and underground station, and more recently through the popular book and movie "84 Charing Cross Road". But the "Cross" in question has a fascinating and romantic history.
Charing Cross was one of 12 "Eleanor Crosses" erected by a disconsolate Edward I when his wife Queen Eleanor of Castile died in 1290. Eleanor bore Edward 16 children in an unusually happy union for that period of arranged marriages.
There is a legend that Eleanor once saved Edward's life by sucking the poison from a wound he received while fighting in the Holy Land. This tale is unlikely to be true; it did not appear until well after the couple was dead, but it does show the extent to which their devotion to each other was known.
When Eleanor died at Harby, near Lincoln, in November 1290, a grief-stricken Edward ordered her embalmed, and her entrails were buried at Lincoln Cathedral. Her body was then carried in a sombre procession to Westminster Abbey in London.
At each place where the procession stopped for the night, Edward had built a memorial cross in her honour. Today only the crosses at Waltham Cross (Hertfordshire), Geddington, and Hardingstone (both Northamptonshire) remain, and the cross at Charing is remembered only in the name Charing Cross.
The locations of the 12 crosses were as follows: Lincoln, Grantham, Stamford, Geddington, Northampton, Stony Stratford, Woburn, Dunstable, St Albans, Waltham, Westcheap, and Charing.
During the 19th and early 20th centuries, several fake Eleanor Crosses were erected, notably at Ilam, Walkden (Lancashire), Sledmere (Yorkshire), and Queensbury. The cross at Charing is a highly imaginative reconstruction of the original 13th-century structure.
Attraction search