Northamptonshire Heritage Guide
Northamptonshire gets short shrift in most guidebooks to England, and that's a shame, for the county boasts some of the finest historic houses and churches in the land. Most popular in recent years has been
Althorp Park
, home of the Spencer family for 5 centuries and now the site of the Diana, Princess of Wales Memorial.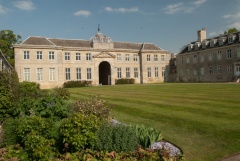 While limited visitor access may make Althorp a "tough ticket", there are plenty of other options; Boughton House near Kettering has been called "England's Versailles". Boughton is a late 17th century house on the foundations of medieval monastic buildings, set about 7 courtyards. The interior is filled with fine art, superb period furniture, tapestries, and porcelain. Nearby is Rushton Triangular Lodge, a striking folly built in 1597 by the eccentiric Sir Thomas Tresham. Sir Thomas's tribute to the Holy Trinity takes the form of a triangular building with 3 stories, three gables and three trefoil windows per side!
Rockingham Castle near Corby is a former royal residence built by William the Conqueror. It houses an enjoyable procession of period rooms dating back to the early Norman period, and boasts 12 acres of wild and formal gardens, including an elephant hedge that is 400 years old.
If your tastes run to gardens, Coton Manor is for you. A terraced garden laid out about an attractive 17th century manor house, Coton showcases a wide variety of plants and styles, from roses to water gardens, hedges, flower meadows and bluebell woods, as well as the ubiquitous English herbaceous borders. Kelmarsh Hall Is a classical Georgian house surrounded by excellent walled and informal gardens designed by influential gardeners Geoffrey Jellicoe and Norah Lindsay, while the Elizabethan manor of Canons Ashby is surrounded by 70 acres of parkland, terraces, and walled formal gardens.
The county town of Northampton itself has a long history dating back to the Saxon period, but many of the town's early buildings were destroyed by a devastating fire in 1675. A further blow came when Charles II ordered Northampton Castle razed after the Restoration. Several notable survivors of all this destruction remain, however, including St. Sepulchre, a 12th circular century church built in emulation of the Church of the Holy Sepulchre in Jerusalem. Lamport Hall in Northampton is an oustanding classical house remodeled by John Webb for the Isham family, and home to lovely period rooms crammed with fine furniture and art.
For a change from the opulent surroundings of Lamport, visit All Saints church in Brixworth, just 8 miles north of Northampton. All Saints is England's largest and finest intact Saxon church, built around 660. The church incorporates even earlier Roman tiles, and is augmented by a 9th century tower built to withstand Viking raids. Another striking Saxon church stands at Earl's Barton, where the 10th century tower has been augmented by a Norman nave. The upper floors of the tower could only be reached by a ladder, which could then be withdrawn to discourage attackers.

Near Stoke Bruerne is the Canal Museum, attractively situated on the banks of the Grand Union Canal. The museum traces the history of canal building and engineering through a fascinating series of displays.
Best of Britain Express Art Prints
Attraction search