British Heritage Awards 2010
Posted:
2010-12-13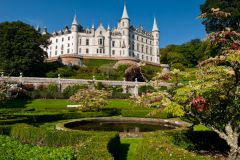 As another year draws to a close, it occurs to me that it is time to join in the spirit of the season. Santa hands out gifts at Christmas, so maybe it is time to hand out a few gifts of my own - or, in this case, awards. In the best tradition of award shows like the BBC Sports Personality of the Year, the Academy Awards, and all the other award shows that we profess to dislike yet find ourselves avidly following (or is it just me?), its time to announce a new award - the BritainExpress.com British Heritage Awards (in association with ... er ... no one in particular).
In years to come, we're going to open the awards up to members of the public to vote on winners, but to kick things off the inaugural British Heritage Awards are entirely subjective and highly personal; my way of recognising those organisations, visitor attractions, websites, and people who have contributed most during the past year to fostering an interest in exploring history, heritage, and travel within the UK.
In this post I'll announce the award categories, and each subsequent post will reveal the winners, one category at a time, with runners-up and honourable mentions. Think of it as an advent calendar for British heritage, revealed one award at a time.
Now, now that we've laid out the plan, and with all those preliminary comments out of the way, its time to reveal the categories [drumroll please ...]
1. Best Small Historic Visitor Attraction 2010
2. Best Large Historic Visitor Attraction 2010
3. Best Heritage website 2010
4. Best Heritage Organisation 2010
5. Best Historic town or village 2010
6. Best Historic City 2010
7. Best promotion of British Heritage 2010

Ooh, this is going to be fun! Stay tuned, the winner of the first category The British Heritage Awards Best Small Heritage Attraction 2010, will be revealed in the next blog post on The Heritage Traveller ...
(Links to award posts will be added one at a time over the next few days as the winners are announced)
---
<< Heritage Traveller Best Articles - West Country Self Catering Cottages >>
Attraction search