British Heritage Awards - Best Historic City 2010
Posted:
2010-12-19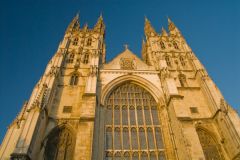 So far this year's British Heritage Awards we've looked at the best heritage websites, best heritage organisations, and best historic attractions (large and small). In our last award we looked at the best historic towns and villages to visit, so this time its the turn of Britain's best historic cities to strut their stuff.
As you can see, there are fewer candidates shortlisted than for previous awards this year. One reason is that there are far fewer cities than towns and villages! Another reason is that the heritage of even the most historic cities tends to get overwhelmed by the demands of urban growth unless the city government makes a concerted effort to preserve and promote that heritage.
These shortlisted cities have done that better than others, though in some cases that is a backhanded compliment, for far too many of our historic urban areas pay only lip service to promoting heritage. But don't let me get on my heritage soapbox, it's time to celebrate the winner!
And the shortlisted cities are ...
This year's winner of the BritainExpress.com British Heritage Award for Best Historic City to Visit 2010 is ...
Canterbury, Kent
There is so much to see in Canterbury that it can seem overwhelming. There's the wonderful cathedral, of course, and St Augustine's Abbey, medieval priory site, the castle, medieval town walls, Roman museum, some of the oldest and most historically important churches in England, and more historic houses than you can keep track of. Visitor attractions are generally well-signposted, many have heritage plaques, and there are several town trail walking leaflets available to get the best out of your visit. I can highly, highly recommend an extended visit to Canterbury.
Honourable mention must go to ...
Wells, Somerset
The smallest city in England has some of the finest historic remains, all packed into a very small city core. There's the fabulous cathedral, next to moated Bishop's Palace, and the oldest preserved medieval street in Britain. The market square is fringed with wonderful old buildings, and nothing is terribly far from anything else.
York, Yorkshire
One of my favourite cities in Britain, and for good reason. Whether your interests run to Roman, Saxon, or medieval, York has plenty to see. Of course, the most famous attraction is York Minster, but there is so much else, including the town walls and medieval gates, fabulous medieval churches and guildhall, medieval merchant's houses, Georgian townhouses, and a multitude of Roman and Viking remains. York is generally well signposted for pedestrians, and there are numerous walking leaflets and town trail guides available.
And that's a wrap for this award. Next up we'll look at who has done the best job of promoting British heritage over the past year.
Resources:
About the British Heritage Awards
---
<< West Lindsey Churches Festival - Origins of Stilton Cheese >>
Attraction search