British Heritage Awards - Best Historic town or village 2010
Posted:
2010-12-18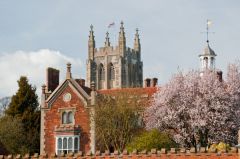 In previous posts, we handed out this year's British Heritage Awards for Best Small Historic Visitor Attraction, Best Large Historic Visitor Attraction, Best Heritage website, and Best Heritage Organisation. This time around its one of my favourite categories; Best Historic Town or Village to visit.
There's really an embarrassment of riches to choose from among the towns and villages of Britain. From the north of Scotland to the tip of the Lands End peninsula, there are so many small towns and villages with rich histories, some going back thousands of years. But a few stand out - not just in terms of history, but in making that heritage accessible and interesting to visitors.
This can be through town trails, printed brochures/leaflets, information plaques, pedestrian signage, and so on. I won't be pedantic about what constitutes a town or village compared to a city; the shortlisted candidates are simply smaller, more accessible places as compared to large urban areas.
As with previous awards, the shortlist is undoubtedly skewed towards places I have visited recently, as they are fresher in my mind! The bottom line is that I think these places are especially worth a visit if you enjoy British history.
With all that out of the way, here are this year's candidates ...
Aargh, I'd better stop before my shortlist turns into a longlist!
And with a roll of drums and to the cheering of the crowds, I can announce that the 2010 award for the Best Heritage town or village to visit goes to ...
Long Melford, Suffolk (external website link)
Gee, this was a tough decision, but I'll hand the award to Long Melford, one of the most beautiful villages in a county that seems to specialise in such things. Within a short stroll are not one, but two superb historic houses (Melford Hall and Kentwell Hall), and arguably the finest medieval wool church in England. A large triangular green stands at the centre of the village, with an attractive pub on one side and an ancient medieval hospital on another.
Honourable mention must go to ...
Lavenham, Suffolk
I have rarely enjoyed wandering around a town as much as I enjoyed walking around Lavenham; I started fancying myself living there. The town is justly famous for its superb collection of timber-framed buildings, many dating to the medieval period. Arguably the most satisfying is the National Trust Guildhall, in the old market place, but that's just the tip of the Lavenham iceberg! Please do take the time to visit.
Shaftesbury, Dorset
Within a short walk are historic buildings, an abbey ruin, a castle site, an early medieval church, a town museum, and the delightfully cobbled Gold Hill, with views across the valley below. For a combination of scenic beauty and history, it is hard to top Shaftesbury.
... unless of course, you turn north to Inveraray, a jewel in the crown of Scotland's fabulous west coast.
I'll stop there before I hand out honourable mentions to every candidate!
Resources:
British Heritage Awards details
---
<< British Heritage Awards - Best Heritage Organisation 2010 - West Lindsey Churches Festival >>
Attraction search