British Heritage Awards - Best Small Historic Visitor Attraction 2010
Posted:
2010-12-14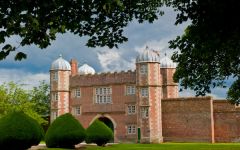 Yesterday I announced the launch of a new feature on Britain Express, the 1st annual British Heritage Awards. The awards are a way to recognise people, places, and organisations that excel in promoting an appreciation of British history, culture, and tradition. Gee, that sounds a bit pretentious; let's just say I think these award winners are really cool! Today it is time for the first award; the Best Small Historic Visitor Attraction 2010.
The term 'small' is relative, of course. In this case, small is more a question of visitor numbers than actual physical size! I'm not privy to current visitor stats for 2010 (in any case those stats are usually not available for quite some time, and then only in a piecemeal form).
This award is probably skewed unintentionally towards places I have visited recently, though that's as much because those places are fresher in my mind. And just to remind you, the award is partly based on how well these attractions actively promote heritage to visitors, which includes things like the quality of a tour (if any), signage, printed brochures/guides, as well as more general factors like general historic interest.
The award shortlist:


And the winner of the Best Small Historic Visitor Attraction 2010 is ...
Burton Agnes Hall
I can't tell you how much I enjoyed visiting Burton Agnes Hall. I only wish all historic houses were this welcoming, relaxed, and friendly to visitors. The hall has been described as the perfect English house, and I can't argue with that. History seems to ooze from every wobbly, darkened beam, and every delicious chamber.
Quite apart from the fabulous setting in a lovely historic garden, the old Norman manor still stands beside the Hall, and next to both is the historic parish church. Everything is well-signed, and the staff could not have been more accommodating to visitors. Other visitor attractions could send their management teams to Burton Agnes for a refresher course in how to run a historic visitor destination.
Honourable mention:
Chavenage House
Wonderful, intimate guided tours of a fascinating house - complete with ghost stories and Cromwell's bed
Lamport Hall
If you enjoy art and architecture, Lamport Hall should be on your short list of places to see. I've rarely, if ever, had such a knowledgeable tour guide, and it made my visit a delight.
Resources:
About the British Heritage Awards
---
<< West Country Self Catering Cottages - British Heritage Awards - Best Large Historic Visitor Attraction 2010 >>
Attraction search