Colonsay
Posted:
2009-07-03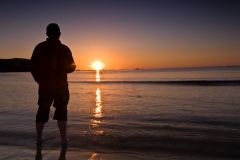 The Isle of Colonsay is one of those magical places that Argyll and Bute seems to specialise in; a place that seems almost otherworldly, marching to a different drummer. If you don't immediately know where Colonsay is located, I'll pause while you find an atlas (or just follow this link to a Google map showing Colonsay).
There aren't really what I'd call 'attractions' on Colonsay; the real attraction is the fantastic natural beauty of the island, and the fact that its all contained in a neat little package only 10 miles from tip to toe, and a few miles wide. That makes it perfect for walking or cycling holidays, but its also perfect for birdwatching. On the wildlife theme, there is a herd of wild goats, reputed to be descendants of goats left behind when the remnants of the Spanish Armada sought shelter at Colonsay on their way back to Spain.
There is a wonderful rhododendron garden at Colonsay House, the 18th-century manor. Within Colonsay House Garden is a peculiar 8th century sculptured stone, or cross, which stands beside a holy well. There are standing stones at Garvard, Balnahard, Kilchattan, and Scalasaig, and the ruins of an ancient chapel, also at Balnahard. A more modern attraction is a gigantic sculpture of a whale, made from beach stones, and laid out on a flat stretch of ground at Port Sgibinis.
At the southern tip of Colonsay is a stretch of mud and sand that forms a shallow straight between Colonsay and the small island of Oronsay. This straight, known as The Strand, can only be crossed at low tide. On Oronsay you will find the remains of a 12th-century Augustinian priory, including a superb carved cross known as the Oronsay Cross. Also preserved at Oronsay Priory is a collection of late medieval carved grave slabs and funeral effigies, made by local craftsmen.
But I haven't mentioned the beaches yet! Colonsay boasts some of the finest beaches in the UK. In particular, Kiloran beach is utterly magnificent, with acres of fine, white sand and crystal clear water that looks like it ought to belong to the Caribbean.
I could wax on for ages about the natural beauty of this island gem, but take it from me, its a delight, and well worth an extended visit. Though there is a small airport on the island, the best way to reach Colonsay is by the twice-weekly Cal-Mac ferry from Oban or Islay.
More:
Colonsay on Britain Express
Photos of Colonsay
Colonsay.org.uk (external website) - good local information and accommodation
---
<< English History and Travel website - Cornwall Tourist Pass >>
Attraction search