Coral Beach, Isle of Skye Prints
Beautiful photos of England, Scotland, and Wales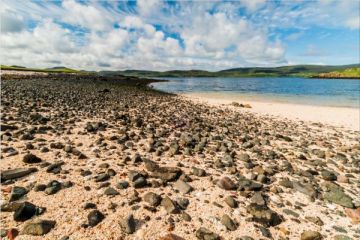 The Story Behind the Image - Coral Beach, Isle of Skye
If you follow the minor road north from historic Dunvegan Castle on the Isle of Skye the road will end at a parking area near Claigan.
From Claigan, follow a signposted trail for a mile along the shore of Loch Dunvegan and you will reach Coral Beach, one of the most secluded and beautiful beaches on Skye.
The beach is not composed of sand, though from a distance it looks like a tropical beach you might find in Jamaica or the Bahamas. Instead, the beach 'sand' is actually made of tiny pieces of ... no, not coral, but calcified and bleached seaweed.
So, the name Coral Beach is all wrong, but that doesn't detract from the stunning scenery!
---
Britain Express UK Image Shop
Our online shop offers canvas prints, framed prints, metal prints, acrylic prints, posters, iPhone cases, Galaxy cases, and greeting cards of UK scenes, specialising in historic sites and traditional locations around England, Scotland and Wales.
We've chosen Fine Art America to host our shop. FAA is the largest worldwide print-on-demand service and offers a wide variety of printed image products from 14 fulfilment centres in 5 different countries.
You can order in a wide variety of currencies (euros, Japenese yen, American, Canadian and Australian dollars), and products ship in 2-3 business days.