Cuillin Hills from Elgol, Isle Of Skye Prints
Beautiful photos of England, Scotland, and Wales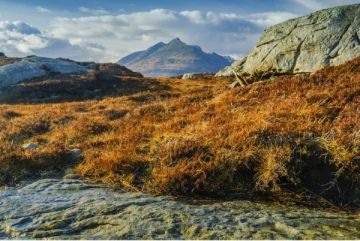 The Story Behind the Image - Cuillin Hills from Elgol
My family and I came to Elgol to visit Prince Charlie's Cave, where Bonnie Prince Charlie hid from his pursuers. The cave can only be reached at low tide and requires a 30-minute walk across the headland south of Elgol.
We were lucky to time our visit for low tide, so we managed to enjoy a wonderful walk to the Cave and explore its depths before the tide rolled in.
We were wandering back across the headland to Elgol once more when I came across this lovely view, with the peaks of the Black Cuillins in the distance. I love the burnt orange look of the grass lit by golden late afternoon sunlight.
I wonder if Bonnie Prince Charlie enjoyed the view? I somehow doubt it; his mind would have been preoccupied with simply staying alive!
---
Britain Express UK Image Shop
Our online shop offers canvas prints, framed prints, metal prints, acrylic prints, posters, iPhone cases, Galaxy cases, and greeting cards of UK scenes, specialising in historic sites and traditional locations around England, Scotland and Wales.
We've chosen Fine Art America to host our shop. FAA is the largest worldwide print-on-demand service and offers a wide variety of printed image products from 14 fulfilment centres in 5 different countries.
You can order in a wide variety of currencies (euros, Japenese yen, American, Canadian and Australian dollars), and products ship in 2-3 business days.