The Quiraing, Isle of Skye Prints
Beautiful photos of England, Scotland, and Wales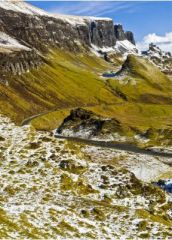 The Story Behind the Image - The Quiraing
I owe this photo to a pair of Australian hitchhikers.
That statement may require some explanation.
I had been doing some early morning photography and was heading back to the holiday cottage my family had rented for the week at Staffin, on the Trotternish Peninsula.
As I neared my destination, my head filled with thoughts of hot coffee and a well-earned breakfast, I came upon a pair of hitchhikers from Down Under, on their way to Uig, on the far side of the Trotternish.
I offered them a lift to the turnoff that would take them over the Trotternish Ridge towards Uig. Then it struck me that the first section of their walk would be extremely steep, so to save them some sweaty work I offered to drive them to the top of the Ridge, where I knew there was a small parking area frequented by walkers.
They accepted, so I drove them up - and up - and up - the winding road to the top of the Ridge. I dropped them off with good wishes, and as I turned around I had time to take in my surroundings. That's when I saw this wonderful view, with snow sprinkled on the top of the Ridge and the peculiar rock formations of the Quiraing. Wow.
---
Britain Express UK Image Shop
Our online shop offers canvas prints, framed prints, metal prints, acrylic prints, posters, iPhone cases, Galaxy cases, and greeting cards of UK scenes, specialising in historic sites and traditional locations around England, Scotland and Wales.
We've chosen Fine Art America to host our shop. FAA is the largest worldwide print-on-demand service and offers a wide variety of printed image products from 14 fulfilment centres in 5 different countries.
You can order in a wide variety of currencies (euros, Japenese yen, American, Canadian and Australian dollars), and products ship in 2-3 business days.