Fairy Pools, Isle of Skye Prints
Beautiful photos of England, Scotland, and Wales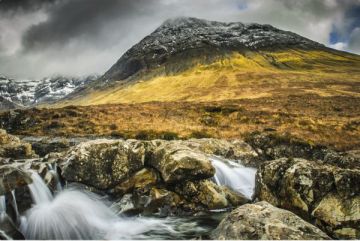 The Story Behind the Image - Fairy Pools, Isle of Skye
The Fairy Pools are a series of crystal clear pools in a cold mountain stream running down from the Black Cuillin Hills on the Isle of Skye. I've photographed the Fairy Pools several times, on sunny days and grim, grey days, and I love the drama created by the ever-changing light.
On this occasion I had a little bit of both; a hint of sunlight hitting the slopes the hills above the Pools and dark, ominous storm clouds overhead.
The other thing that I recall about this photo is that when I got back to my car after taking the photo I took off my favourite winter coat and woolly hat put them on the roof of the car while I stowed my camera gear away. I then absent-mindedly drove away with the hat and coat still on the roof.
When I realised what I had done I checked the roof. Nothing. I drove back to the Fairy Pools parking area. Nothing. I even checked at the police station in Portree to see if anyone had turned in my hat and coat. Nope. Such are the hazards of being a photographer!

---
Britain Express UK Image Shop
Our online shop offers canvas prints, framed prints, metal prints, acrylic prints, posters, iPhone cases, Galaxy cases, and greeting cards of UK scenes, specialising in historic sites and traditional locations around England, Scotland and Wales.
We've chosen Fine Art America to host our shop. FAA is the largest worldwide print-on-demand service and offers a wide variety of printed image products from 14 fulfilment centres in 5 different countries.
You can order in a wide variety of currencies (euros, Japenese yen, American, Canadian and Australian dollars), and products ship in 2-3 business days.