Isle of Skye Sunset, Waternish Prints
Beautiful photos of England, Scotland, and Wales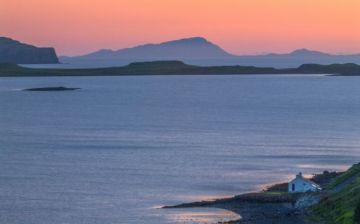 The Story Behind the Image - Isle of Skye sunset, Waternish
The west coast of the Isle of Skye is known for its wonderful sunsets and there is no place better to watch the setting sun than the Waternish peninsula.
This view was taken from the cliffs at the township of Stein, looking towards Ardmore Bay and Mingay Island, with Isay and Dunvegan Head in the distance.
I was staying at a lovely bed and breakfast just a mile away from this location so it was definitely not a hardship to stay up late on a long summer night and get this lovely photo.
I really enjoy the lonely house on the point of land in the foreground; it looks dwarfed by the sheer scale of the scene and the distant peaks.
---
Britain Express UK Image Shop
Our online shop offers canvas prints, framed prints, metal prints, acrylic prints, posters, iPhone cases, Galaxy cases, and greeting cards of UK scenes, specialising in historic sites and traditional locations around England, Scotland and Wales.
We've chosen Fine Art America to host our shop. FAA is the largest worldwide print-on-demand service and offers a wide variety of printed image products from 14 fulfilment centres in 5 different countries.
You can order in a wide variety of currencies (euros, Japenese yen, American, Canadian and Australian dollars), and products ship in 2-3 business days.