Elgol & the Black Cuillins Sunset, Isle of Skye Prints
Beautiful photos of England, Scotland, and Wales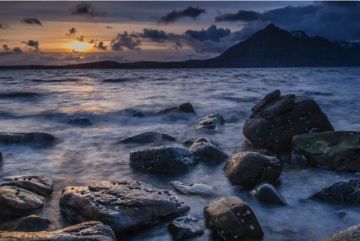 The Story Behind the Image - Elgol Sunset, Skye
Elgol is a lovely little fishing village on Loch Scavaig, south of Broadford on the Strathaird peninsula of the Isle of Skye. It is also a magnet for photographers.
The cliffs along the loch shore are a peculiar honeycomb pattern, and the harbour itself is picturesque, but it is the wonderful view across the loch towards the peaks of the Black Cuillins that draws photographers - like me - again and again.
On this occasion, I came late in the day and set up my tripod by the rocky beach. What I didn't anticipate was that I'd have to keep moving my tripod as the tide came in, but I'm pretty happy with the result! Pure Skye magic.
---
Britain Express UK Image Shop
Our online shop offers canvas prints, framed prints, metal prints, acrylic prints, posters, iPhone cases, Galaxy cases, and greeting cards of UK scenes, specialising in historic sites and traditional locations around England, Scotland and Wales.
We've chosen Fine Art America to host our shop. FAA is the largest worldwide print-on-demand service and offers a wide variety of printed image products from 14 fulfilment centres in 5 different countries.
You can order in a wide variety of currencies (euros, Japenese yen, American, Canadian and Australian dollars), and products ship in 2-3 business days.