William Butterfield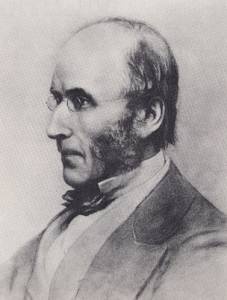 1814-1900
William Butterfield was one of the most influential exponents of the Victorian Gothic phase of British architecture. Butterfield was one of nine children born into a strictly non-conformist family. His father operated a chemist's shop in the Strand, London.
He was educated locally, then at the age of 16, he was apprenticed to a builder named Thomas Arber. Arber later went bankrupt, and Butterfield went on to study architecture with EL Blackburn. In 1838 he became an assistant to Harvey Eginton, an architect practising in Worcester. In 1840 he moved back to his roots and launched his own architectural practise at Lincoln's Inn Fields, London.
Those are the bare bones of Butterfield's early life, but there is nothing in that early life to suggest how his career and his philosophy of architecture was about to undergo a radical alteration.
In 1842 Butterfield began a long association with the Cambridge Camden Society, which later evolved into the Ecclesiological Society. The Society was set up by students of Cambridge University with the aim of studying Gothic architecture in general and church architecture in particular. They became one of the major influences in advocating a return to the Gothic style of architecture in Britain; a sort of harkening back to an imagined Golden Age of faith and building.
At the same time, he became caught up in the Oxford Movement, a religious movement begun by John Keble which aimed to reinvigorate the English Anglican church. His architectural designs, some of which he submitted to the Ecclesiological Society journal, reflected his new-found religious beliefs.
Inspired by the 'high church' attitude of the Oxford Movement, Butterfield designed in medieval Gothic style, a style which became known as Victorian Gothic, or Gothic Revival. Though some of his designs were for churches, many were not religious, but rather, secular buildings, such as schools and colleges.
Butterfield's design for the church of All Saints, Margaret Street, in London, is credited with launching the High Victorian Gothic era in design - a style of building that proliferated throughout Britain and to every corner of the Empire in civic buildings and churches alike.
All Saints was sponsored by the Ecclesiological Society, designed in 1850 and finally consecrated in 1859. It was intended as a model church rather than a one-off commission. The church was flanked by a school on one side and a residence for the clergyman on the other. The site was narrow and cramped, hemmed in by other buildings, so the only way to expand was up. And up All Saints went, with an offset steeple.
The colour scheme was pure Butterfield; red brick with black brick with bands of stone for colour. The interior is richly decorated with tile and marble, alabaster, gilt, marquetry, carving, semi-precious stones, and coloured glass. Many of his contemporaries saw All Saints as Italianate, though Butterfield himself probably was more interested in its use of 14th century English design.
He went on to design other churches, but the building for which he is probably best remembered today is Keble College, Oxford University. The college, in honour of John Keble, whose philosophy had so inspired the Oxford Movement and Butterfield's own beliefs, is a symphony of red brick, accented with black and white brick to create chequerboard patterns. It has been called a 'monument to High Victorian Gothic'. The small chapel is perhaps the best feature of Butterfield's work, and it contains Holman's painting The Light of the World.
Like all things in the worlds of art and architecture, the popularity of Butterfield's polychrome designs faded. After 1875 the public taste for his version of High Gothic waned, and he became less in demand.
Butterfield extended his interests beyond architecture, and turned his hand to designing church furniture and interior decoration. He was particularly interested in using high-quality, durable material in all his work.
A reserved man, and deeply religious, to Butterfield his faith and his architecture were one and the same. His personal principles were rigid and austere, and these characteristics came out in his buildings. He was known for his use of polychrome schemes, a strong massing of shapes, and high steeples.
He used very strong colours, but preferred not to paint or otherwise decorate surfaces; rather, the materials themselves provided the colour. From this philosophy, he used coloured tile and mosaic extensively to provide decorative colour, with brick, stone, alabaster, and marble also commonly used materials.
Well-known buildings Butterfield worked on include Balliol College Chapel, Oxford, St Augustine's Church in Penarth (Glamorgan), Rugby School, Dorchester Abbey.
William Butterfield died in 1900 and was buried in Tottenham Cemetery, Haringey. His house in Bedford Square, London, has been recognised with a blue plaque which simply states 'William Butterfield, 1814-1900, Architect lived here'. It seems a shame that a man who so influenced architecture throughout the Victorian era is so little remembered.
Best of Britain Express Art Prints