Colen Campbell
COLEN CAMPBELL AT A GLANCE:
Born 1676, died 1729

Scottish lawyer turned architect
Palladian pioneer
Patronised by Lord Burlington
Author of an influential series of books on classical design
Colen Campbell was perhaps more responsible for the growth in popularity of Palladian architecture in England than any single architect. Together with his patron, Lord Burlington, Campbell transformed a nation's vision of what a grand stately home should be, and helped shape the style that became the norm for the grand country houses of 18th century Britain.
Very little is known about Campbell's early life. He was born at Brodie Castle, in Nairnshire in 1676, and was descended from the Campbells of Cawdor Castle. He was educated at the University of Edinburgh, trained as a lawyer, and became quite successful in his chosen career. But for some reason he left his flourishing career in law and left Scotland for London, determined to make a mark for himself as an architect.
To market his architectural services Campbell published a book of designs, drawing heavily upon the work of Andreas Palladio, a 16th century Italian architect, and Vitruvius, an influential 1st century AD Roman architect and author of De Architectura, a study of classical Greek and Roman style. At the same time as the book praised classical design, Campbell took every opportunity to revile the Baroque fashion, particularly the work of his fellow Scot and rival, James Gibbs.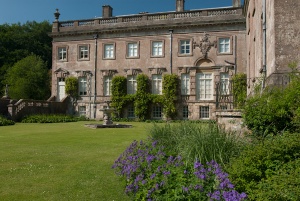 In addition to producing drawings of works by other architects, including Inigo Jones, Campbell's Vitruvius Britannicus (1715) contained examples of his own work. As a summary of classical principles and a record of classical building design, the book was an invaluable resource.
As a marketing exercise, Vitruvius Britannicus was even more successful, and it achieved its aims. Campbell's work was noticed by Richard Boyle, 3rd Earl of Burlington, and Buriington chose him to remodel Burlington House in 1717.
Burlington House can be visited today; it is now home to six learned societies, including the Society of Antiquaries, Royal Academy of Arts, Linnean Society, Geological Society, Royal Astronomical Society, and the Royal Society of Chemistry (formerly The Chemical Society). Also in 1717 Campbell publised the second volume of Vitruvius Britannicus, to be followed by a third and final volume in 1725.
The book and the patronage of Lord Burlington helped launch the neo-classical Palladian movement in England, and set the pattern for the design of most of the great country houses for the next century. Campbell's promotion of classical design came at the time when the 'Grand Tour' was becoming popular among young nobles.
Many young men (and later, young women) were travelling to Italy and Greece seeing the marvels of classical design for themselves, and becoming inspired to bring that same sense of classical style and proportion back to Britain. Campbell could not have timed it better.
Campbell's first major house design was Wanstead House, in Essex (1717-1720) where he was able to implement many of his classical ideas. The house, now demolished, featured an imposing 260 foot symmetrical frontage, with a piano nobile (a grand reception area or floor) and impressive entrance portico.
Campbell only designed one other great country house, at Houghton Hall, Norfolk, built for Sir Robert Walpole in 1721 and illustrated in the final volume of Vitruvius Brittanicus. The design of Houghton was based on a huge 450 foot frontage with a central block connected to pavillions by colonnades. Ironically, Houghton was completed by Campbell's great rival, James Gibbs.
If Wanstead and Houghton owed much to Inigo Jones and classical Roman design, Campbell's other great works were much closer to the work of Palladio himself. Mereworth (Kent) and Stourhead (Wiltshire) wereessentially British versions of Italian villas. Stourhead House (1724) is a square central block with a large portico, to which was later added a pair of wings.
Mereworth Castle is based on Palladio's Villa Capra, and is the closest thing in England to a classical Italian villa; a square block with idential porticoed elevations on all four sides, beneath a central dome. The trouble with slavishly copying Palladio's design, however, is that the original was intended for the sunny Italian climate, but England, as natives will attest, is not Italy, and the result may look grand, but feel cold and unpleasant to live in.
Though Campbell's career as an architect did not produce many finished designs, his influence should not be underrated; with the aide of his patron, Lord Burlington, he helped popularise classical design, and influenced so many of the great historic houses of 18th century Britain.
Colen Campbell died in 1729. A blue plaque marks his London home at 76 Brook Street. His architectural carrer spanned only 14 years from the publication of the first volume of Vitruvius Britannicus until his death, so his output was hardly prodigious, but the influence of his designs helped ignite English architecture and launch the neo-classical Palladian movement.
Lest that praise sounds too effusive, let it be also said that Campbell was hardly a saint. In 1718 his patron, Lord Burlington, got him the post of deputy to the Surveyor General of the Royal Board of Works. In that capacity Campbell carried out a survey of the House of Commons at Westminster with his superior, Surveyor-General William Benson.
Their report concluded that the buildings were in need of urgent rebuilding. Unfortunately, word leaked out that the two men had planned the negative report so that they could get the contract to carry out the repairs. Though Benson took most of the blame, both men lost their posts, and for the rest of his career Campbell focussed on designing domestic buildings.
TO SEE:
Houghton Hall, Norfolk
Stourhead House, Wiltshire
Burlington House, Piccadilly, London (south front, and west wing)
MORE:
You can still purchase Campbell's great work of 18th century classical style, Vitruvius Britannicus.
Best of Britain Express Art Prints