English Country Houses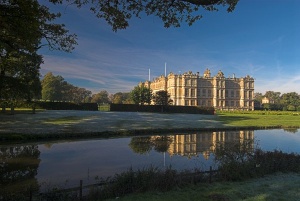 What is a country house and why does it deserve a special mention in this history of Britain? Well, for a start, the country house was a mansion built in, well, the country (sorry, I couldn't resist). The term "country house" is practically synonymous with "historic house", though of course houses of historical interest may be found in British towns and cities also.
The country house as a style of building rose up in the relative peace and prosperity of the Tudor age. There was no longer a pressing need for defense in domestic buildings, so the aristocracy began lavishing their money on houses designed to impress.
Showpiece Homes
The heyday of the country house was the 18th century, and most of the examples that survive are from this period. Many of these houses were built expressly to provide a showplace for the art collections of the owners, and subsequent generations of collectors have filled them to overflowing with marvelous collections of art of all sorts (including the ubiquitous selection of family portraits).
Landscape gardens
Because these houses were built on large country estates there was plenty of space for extensive gardens and parkland. The landscape garden movement of the 18th century meant that many of these houses have gardens that come right up to the doors of the house. Many country houses are worth visiting just for a chance to experience the magnificent gardens that surround them (examples include Stowe, Blenheim Palace, and Stourhead).
Palladian houses
The predominant style of the early 18th century was Palladian, based on the classical designs of Andreas Palladio, and fostered by Lord Burlington among others.
What makes a Palladian country house?
Generally, they were situated on rising ground, with gardens stretching up to the "back door" from parkland below. They were classical in style, with a large central portico and strong vertical lines on the exterior. It was in the interior that these country houses really shone, however. Furnishings were ornate and designed to impress.
Generally, a large entry hall led on to living rooms meant for show. Bedrooms and dressing rooms were upstairs, while the kitchen and the servants quarters were relegated to the basement. It was terribly inconvenient, but it was magnificent! Among the best examples of these Palladian country houses include; Holkham Hall (Norfolk), Clandon Park (Surrey), and Nostell Priory (Yorkshire).
Classical Revival
Later in the 18th century, design became more refined. There was a passing fashion for Chinese elements in decoration, but on the whole, the inspiration was still classical Roman and Greek, fostered by the newly excavated remains of buildings at Pompeii. This "Classical Revival" period was characterized by superb craftsmanship and design. From the foundations to the tiniest detail of decoration you can see sophisticated, elegant excellence. Rooms were well lit with large windows, and the natural light was supplemented by numerous large mirrors.
What to see
The best country houses of this later period are characterized by the work of Robert Adam at Syon House (Middlesex), Harewood House (Yorkshire), and Kedleston Hall (Derbyshire), among many others.
Related:
Historic Houses in ...
Attraction search