10 Best Scottish Brochs to Visit
Exploring England, Scotland, and Wales
The north of Scotland is dotted with the ruins of Iron Age towers known as brochs (pronounced with a hard 'ch', as in 'lochs'). What is remarkable about these mysterious conical towers is that we don't know what they were used for or why they were built.
What are brochs?
Brochs are conical towers with a circular base, tapering slightly as they rise. If you are technically-minded, archaeologists consider them to be complex Atlantic roundhouses.
---
Brochs are built with a pair of concentric drystone walls tied together with long stone slabs. Between the inner and outer walls are passages, mural chambers, and stairs. The stairs lead up to timber platforms on the upper levels of the tower.
At ground level is an inner courtyard, or communal space, often with a stone hearth. It seems likely that the towers were topped with conical thatched roofs. There may have been wooden lean-to buildings against the inner walls.
All known brochs have a single entrance, often with a triangular lintel stone over the doorway. There is often a chamber beside the entrance, suggesting a guard cell.
---
The tallest surviving broch (Mousa Broch on Shetland) stands 13m high. Most brochs vary in diameter from 5m-15m internally, with walls up to 3m thick.
Archaeologists used to think that brochs were the Iron Age equivalent of medieval castles, the fortified homes of Iron Age chieftains who had been pushed northward into Scotland from southern England by an influx of newcomers from Europe.
---
Why were they built?
Once again, we enter the territory of speculation. Historians used to think that brochs were defensive structures; fortified towers built for a ruling elite who held sway over the surrounding territory. Other historians considered them places of refuge, where people and cattle could take refuge during times of trouble.
More recent historians, however, consider brochs to be the Iron Age equivalent of stately homes, a status symbol, in the same way that wealthy landowners of a later age built palatial residences like Dunrobin Castle or Balmoral.
In truth, there is very little evidence to support any of these views, and the honest answer is that we simply don't know why brochs were built.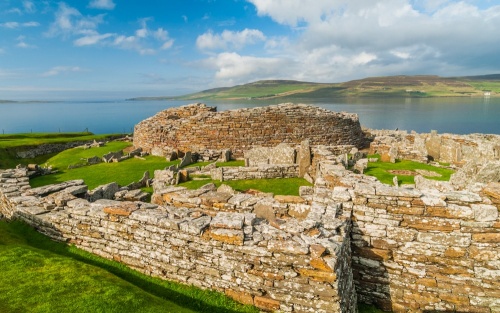 ---
How Old are Brochs?
Brochs span the Iron Age period from approximately 600 BC to AD 100, though carbon dating suggests that most brochs were built in the span of two centuries, from 100 BC to AD 100.
The name 'broch' comes from the Lowland Scots term 'brough', meaning a fort, possibly derived from the Old Norse 'borg'. The term 'dun' is more commonly used in western Scotland while 'broch' is more common in the east.
How many brochs are there?
Here we are on shaky ground, and no authorities seem to agree on the numbers. According to the Royal Commission on the Ancient and Historical Monuments of Scotland (RCAHMS) there are almost 600 brochs across Scotland, suggesting that during the Iron Age there must have been thousands of similar structures.
Other authorities put the number of brochs much lower. Part of the problem is that ruined archaeological sites may not be clearly identifiable as brochs. The highest number of brochs are found in Caithness, Orkney, and Shetland.
Our Picks
We haven't visited every known broch in Scotland, that would be the work of a lifetime! We have, however, visited and photographed most of the better-known brochs and have come up with a list of the best-preserved brochs you can visit today.
Every one of these sites is well worth a trip to see.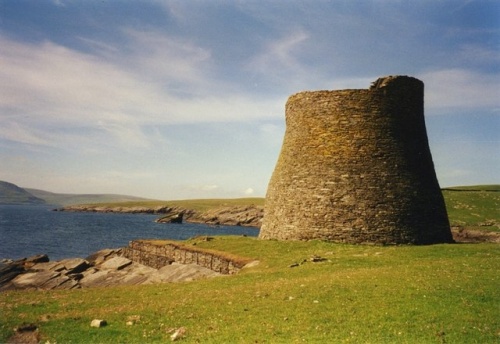 ---
Sir Walter Scott, no stranger to hyperbole, called Mousa Broch a Pictish fortress, 'the most entire probably in the world'. We can forgive Scott for getting carried away, for Mousa Broch is a remarkable Iron Age survivor, with walls standing 13m high.
Within those walls are three large chambers, each with a stone cupboard built into the wall. There are six galleries reached by an internal spiral stair. The broch appears twice in the Orkneyinga Saga, the collection of Norse histories.
Getting There
Mousa Broch stands on the uninhabited island of Mousa and can be reached only by boat from Sandwick, off the A970 south of Lerwick.
Book your Large Group Holiday Cottage in the Scottish Highlands Today
Perfect for family reunions!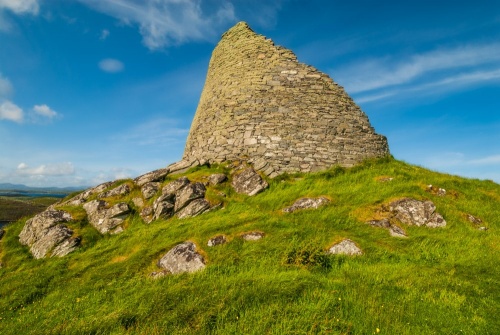 ---
If Mousa Broch is the best-preserved broch in Scotland then Carloway is a close second. This imposing structure stands on a rocky hilltop above Loch Roag, on the west coast of the Isle of Lewis. The walls rise to as much as 9.1m (30 feet) in places and enclose an inner space about 7.6m (25 feet) across. Within the thickness of the walls are several chambers and tiers of galleries on two levels.
Getting There
Access to Dun Carloway is by way of a 100' climb up a moderate hill from a parking area off the A858 south of Carloway village.
---
Also known as Dun Dornadilla, this very well-preserved broch stands in glorious countryside on a rise overlooking the Strathmore River. Probably built in the 1st century BC, Dun Dornaigil stands to a height of 7m in places, with walls 2-3m thick.
The broch we see today is roughly half its original height and is braced by modern supports. The interior of the broch has been filled with rubble, making it inaccessible, but the exterior is impressive and the setting is simply stunning.
Getting There
To reach Dun Dornaigil you need to take the narrow, very scenic minor road down the east shore of Loch Strathmore, past Ben Hope. Note that this road is not suitable for caravans or trailers.
---
Midhowe Broch is one of the finest Iron Age brochs in Scotland, located in a superb coastal location beside the famous Midhowe chambered cairn. It was probably built between 200 BC and AD 200. The walls stand roughly 4.3m high, but would originally have been at least twice that height.
The broch interior is a maze of chambers created by stone walls, with hearths and holding tanks for water. Midhowe was the centrepiece of a settlement, with cliffs defending the site on the seaward side and a stone-built ditch and barrier on the landward side.
Midhowe is one of the most heavily studied brochs in Scotland. Many of the archaeological discoveries at Midhowe are on show at Gurness Broch, on Orkney Mainland.
Getting There
There is a parking area on the B9064 coastal road about five miles west of the Rousay ferry terminal. The site is well signposted and easily visible from the parking area. There is a five-minute walk downhill to the broch - good footwear is advised.
---
Gurness is a well-preserved Iron Age broch with a surrounding settlement, with evidence of later use during the Norse period. It stands in a spectacular location looking across Eynhallow Sound to Rousay.
It was built in the 1st century AD and consists of a central tower defended by three concentric rings of earthwork banks and ditches. A causeway across the eastern end of the defences gave access to the broch.
The size and complexity of Gurness suggest that it would have supported a population of up to 40 people.
Getting There
Broch of Gurness is located on a minor road off the A966 between Finstown and Evie. The turning is well signposted from the A966.
---
One of two brochs in Glen Elg, Dun Telve stands beside the burn of Abhainn a Ghlnne Bhig on a strip of level land. The walls stand to over 10m high and provide space for four mural galleries. There is evidence of a settlement surrounding the broch, but whether it was contemporary with Duin Telve isn't clear.
Getting There
Dun Telve stands on the minor road east from Glenelg to Balvraid, a few hundred yards from Dun Troddan. It is well worth the trip up Glen Elg to see both brochs.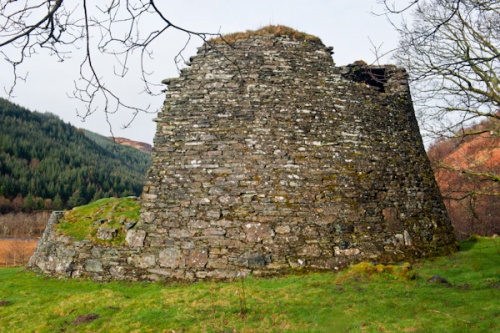 ---
The second broch in Glen Elg, Dun Troddan is about 330 yards from Dun Telve. The broch walls stand about 8m (25 feet) high at their highest point. The unusual feature of Dun Troddan is that the entrance is set at an angle to the internal stairs, meaning that an attacker would have to scramble around the circumference of the wall before reaching the internal cavity.
Getting There
On the minor road up Glen Elg to Balvraid.
---
Though the walls of Nybster Broch are much lower than other sites on this list, it is a stunning archaeological site and well worth a visit. The broch stands on a promontory, with steep cliffs on the seaward side. We know that the site was occupied for hundreds of years, throughout the late Iron Age and well into the historical period.
Given the length of time it was in use, it is not surprising that Nybster evolved from a simple broch to a complex of interlinked structures, connected by passages. Some of these buildings may have been used by the Picts, and a nearby stone blockhouse may predate the broch.
Archaeological finds from Nybster are on display at the nearby Broch Centre, which is housed in the former Nybster schoolhouse on the A99.
Getting There
Nybster Broch is signposted on the A99 at Nybster, just south of the Caithness Broch Centre. There is a small parking area where you will find a signposted trail to the broch.
---
Perhaps the most unusual site on this list, if for no other reason than that it is found so far south. It is rare to find a broch, particularly one in such a good state of preservation, outside the Highlands.
Edin's Hall is an impressive site made up of a defended settlement with a large circular broch, set within a series of earthwork ramparts and ditches.
We do not know when Edin's Hall was built, but it was likely sometime in the late Iron age. It probably remained in use until well into the Roman period.
You enter the broch through a single stone doorway that gives access to a central circular courtyard. Opening off the courtyard are three passages that each split in two directions to access a total of six small chambers.
Getting There
Edin's Hall is on the northeastern slope of Cockburn Law hill, reached by a fairly easy 2-mile walk from a parking area off the A6112 between Grantshouse and Preston. It took our family 40 minutes to make the walk, with a reluctant 10-year-old in tow. Please wear good waterproof footwear, because the path can be muddy in places.
---
Probably the least known broch on this list. We stumbled on Totaig Broch when we were staying at a self-catering cottage at nearby Letterfearn. The broch stands on a hillside looking out over Loch Alsh. The broch is thought to date to the late 1st millennium BC.
You reach the interior through a low stone doorway with a triangular lintel over the entrance. On one side of the doorway is a guard chamber.
A small cell is built into the wall, with a stone cupboard set into the wall. A mural stair leads to a landing and would have originally gone on to a first-floor gallery.
It is the superb location that really makes Totaig Broch worth a visit. The views over Loch Alsh are stunning.
Getting There
Totaig Broch is on the forestry trail north and west of Totaig, on the southern shore of Lochalsh. Park near the end of the road past Letterfearn. Walk past Ferry House and follow the obvious trail along the shoreline until you reach a gate in a deer fence. Keep left, following the trail, and you will cross a small burn. The broch is above you, on the left, as you climb up from the burn.
---
The photo of Mousa Broch is (c) Tom Pennington and is republished with gratitude under a Creative Commons license.
Best of Britain Express Art Prints