West Midlands Heritage Guide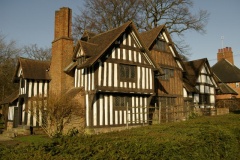 To say that the West Midlands is largely urban is to say the sun sometimes rises. The city of Birmingham, England's second largest, sits at the centre of the region, and it has gradually spread out to take in outlying towns. Birmingham itself has a history - and a proud present - as a centre of manufacturing, dating to it's place at the heart of the Industrial Revolution in England.
In the Victorian period Birmingham, called "Brum" by the natives, was an eyesore of worker's slums and grimy factories. Though much has been done to alleviate the worst of the Victorian mess, much remains.
Yet for all that Birmingham is a city of boundless vitality, a centre for the arts, and home to more miles of canals than Venice (yes, really!). Brindley Place, an award-winning waterfront development, has turned the docklands into a must-see centre of arts, shopping, and fashion. The National Sealife Centre is located there.
The Jewellery Quarter is the hub of Birmingham's thriving jewellery industry, and the Discovery Centre takes visitors behind the scenes at a jewellery manufactory. A walking tour links the major stores and historic landmarks of the area.
Venturing out from Birmingham - a trip best made with a native navigator, due to the confusing morass of ring roads and motorways which surround the city - a new attraction which is drawing visitors like a flower draws bees is Cadbury World, home to one of the world's largest chocolate manufacturers. Take a factory tour and discover the story behind your favourite snack.
Close by is Bournville Village, built by the Cadbury family to house their workers in style. At the village is Selly Manor, a 14th century half-timbered manor set in a delightful Tudor garden.

Selly Manor is an authentic manor and looks it, whereas Wightwick Manor, near Wolverhampton, though it looks the part, is an impostor. Half-timbered Wightwick is an Arts and Craft Movement attempt to emulate the Tudor style. The interior does boast authentic William Morris fabrics and wallpaper, and works by other prominent pre-Raphaelites.

Halesowen Abbey was originally founded in the 13th century by King John of ill-repute. Much of what is left of the abbey buildings are incorporated in a Victorian farm house.

Image of Selly Manor is © Phil Champion, republished with gratitude under the Creative Commons license
More Photos
Best of Britain Express Art Prints
Attraction search