William Hogarth biography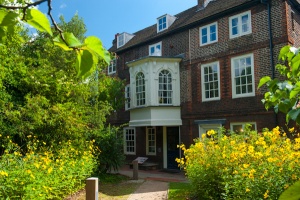 William Hogarth was born in 1697 in Smithfields, London, the son of Latin teacher Richard Hogarth. The elder Hogarth later opened a coffee house, but the venture was a disaster, and he was jailed in Fleet Street prison when he was unable to pay his debts.
William later apprenticed as a silverplate engraver to master engraver Ellis Gamble. When his apprenticeship period ended, Hogarth went into business for himself. It was at this period of his life that Hogarth met a man who was to prove an inspiration for his future career, artist Sir James Thornhill. Hogarth attended classes at Thornhill's free art academy in Covent Garden, became friends with the artist, and eventually married his daughter, Jane.
Hogarth worked for print-sellers, and also published his own work, notably the moralistic tale The Harlot's Progress (1732). The following year he began his famous series The Rake's Progress, showing the decline of a young man into a life of drunkenness and immorality.
A successful artist in his own right now, Hogarth managed to use his influence to press passage of a law aimed at preventing publication of artist's works without payment of royalties. He also helped found the St. Martin's Lane Academy for young artists.
Although Hogarth was successful in producing portrait engravings, it is as a social commentator that he is most widely remembered. He produced several series of prints depicting the sordid details of everyday life among the lower classes (notably Gin Lane) and political satire such as The Election.
The latter style, particularly his anti-war The Times (1762) made him many enemies in Parliament, but Hogarth continued his feisty, bitingly satirical work to the end. He died on October 25, 1764.
Places to visit associated with William Hogarth:
The National Portrait Gallery, London
Tate Britain, London
National Gallery, London
Guildhall Art Gallery, London
Sir John Soane Museum
The Foundling Museum
Hogarth's House
Attraction search