Alford Five Sailed Windmill
UPDATE
We have sadly learned that Alford Windmill is now closed to the public. As far as we can determine this closure is permanent. Please do NOT make plans to visit!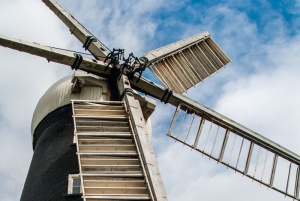 In a county blessed with a large number of historic windmills, it may be hard to put one above the rest. Alford's restored five-sailed windmill can make a bid to be the most attractive of the lot. It is located at the edge of this busy market town.
The mill produces organic grain which can be purchased in the shop, along with a range of other wholefoods. There is also a tea shop on premises, housed in the original engine house.
Visitors can tour the mill and get an insight into the traditional milling process and actually see the mill grinding grain - wind permitting, of course! A small charge applies. A short distance away is Alford Manor Museum.
History
The mill dates to 1837. It was built by Sam Oxley, an Alford millwright. Oxley chose to build his new mill with five sails, a very unusual choice. He based his decision on the work of engineer John Smeaton, who calculated that five sails offered the greatest mechanical advantage for the efficient use of wind power. Smeaton also advocated the onion-shaped windcap to cut down wind resistance.
The mill is built of brick, painted black with bitumen (tar) for weather-sealing. There are double doors at ground floor level and the tower stands 6 storeys high. There is a balcony at the second-floor level, with a plain iron balustrade. There are four pairs of grinding stones, with gearing installed by Tuxfords of Boston.
A gas engine was later added, housed in a shed beside the windmill, to provide power on days when there was not enough wind.
Alford once had 4 tower mills, including four and six-sailed versions, but this is the only remaining mill.
Best of Britain Express Art Prints