Lady Godiva's Ride, Fact & Fiction
Lady Godiva, by James Collier, c. 1898, in the Herbert Museum, Coventry
---
It is one of the most famous stories in British history; the young noblewoman Godiva, warm-hearted and compassionate, sees the plight of the people of Coventry, faced with harsh taxes imposed by her middle-aged husband, Earl Leofric of Mercia. She implores her husband to revoke the taxes. He eventually agrees, but only if she will ride naked through the streets of Coventry. To his surprise, she does just that, using her long hair as a veil. All the citizens avert their eyes save only one, dubbed Peeping Tom. Earl Leofric is true to his word and revokes the crippling taxes.
The Background
Godiva was a real person, though her name was Godgifu, or Godifu, meaning God's Gift. She was the wife of Earl Leofric and mother of Ã?lfgar, Earl of East Anglia. Her granddaughter was Aldgyth, of Edith, wife of King Harold.
Godiva was a wealthy landowner in her own right, with vast estates. She was a patron of several religious houses, including the Benedictine abbey of St Mary in Coventry (later to become St Mary's Priory and Coventry Cathedral). She seems to have been a pious woman, as evidenced by her gifts to monasteries. Contemporary writers hardly mention Godiva save in her role as the wife of Earl Leofric, one of the most powerful men in England.
The earliest version of the Lady Godiva story appears in the chronicles of Roger of Wendover, a monk at St Alban's Abbey. We do not know when Roger was born, but he died in 1236, some two centuries after the supposed events in Coventry.
He was the first in a line of important chroniclers at the abbey, and his major work was the Flores Historiarum (Flowers of History). The Flores Historiarum was based partly on written material already held at the abbey, possibly written or compiled by John de Cella (John of Wallingford), abbot of St Albans from 1195 to 1214. Roger's writings survive in a single 13th-century manuscript held at the Bodleian Library in Oxford, a worn 14th-century copy in the British Museum, and an edition edited by the famous 13th-century chronicler Matthew Paris.
Roger of Wendover's version of events goes roughly along these lines:
In the year 1057 Earl Leofric imposed heavy taxes on his subjects, including the citizens of Coventry. Godiva, being a godly woman, implored him to 'free the town from the said servitude'. The Earl refused her entreaties and forbade her to mention the subject again. Yet still she persisted, until the exasperated Earl said:
'Mount your horse naked and ride through the market place of the town, from one side right to the other, while the people are congregated, and when you return you shall claim what you desire'.
The Countess (she would not have been styled 'Lady' in the 11th century) took him at his word, and, freeing her long hair from its bindings so that it fell about her, and accompanied by two soldiers, she mounted her horse. Her hair was so long that it veiled her whole body, saving only her legs. She passed through the market place, and returned triumphant to her husband, demanding that he fulfil his vow.
Earl Leofric was true to his word, and freed the town of Coventry from its heavy burden of taxes, confirming the deed with an official charter. It seems that one tax alone was left in place; a toll on horses.
Later 14th-century chroniclers began to add details to the story. For instance, Ranulf Higden (d. 1364) stated that the ride took place in the morning and that Godiva's desire was to free the city of all taxes except a toll on horses.
Lady Godiva statue, Broadgate, Coventry
---
Note that none of the early chroniclers make any mention of 'Peeping Tom'. The first reference to the Peeping Tom character comes in an account by R Grafton's 1569 Chronicle. Grafton says that before Godiva set out on her ride she summoned the civic authorities and explained her plan. Obviously they did all they could to help, for it was in their interests to do so. The officials ordered all citizens to stay indoors, shut their windows, and avert their eyes. Then, accompanied by a serving woman, Godiva galloped through the streets. One citizen alone broke the taboo and peeked as Godiva rode past.
Grafton's Chronicle claimed to have received this version of events from one 'Gaufride', or Geoffrey. If true, this might have been Geoffrey, prior of Coventry from 1216-1235 (again, almost two centuries after the supposed events). Later writers embellished Grafton's account, and the Peeping Tom version began to become the 'official' account of events. Each retelling added more details. A 17th-century manuscript suggested that during the ride someone let down a window (i.e. let a shutter fall), causing Godiva's horse to neigh, and it was for this reason that the tax on horses was not lifted by Leofric.
Still later, it was claimed that the man who peeped at Godiva was put to death for his temerity, and another that his eyes were put out by the outraged citizenry. The first written reference to 'Peeping Tom' as a specific character comes from the city annals of 1773, and just a few years later Thomas Pennant added the detail that Tom was a tailor by trade. In 1790 Thomas Seward, Canon of Lichfield, changed the story somewhat; he said that Tom was, in fact, a groom named Actaeon. When the Countess' horse saw Actaeon it recognised him and neighed.
Did it Happen?
Almost certainly not, or at least, not in the way the ride is often portrayed. For one thing, Coventry was not a town, and would not have had a market place to ride through. It was, however, a town with a market charter by the 13th century, when the first chronicles appeared.
One rather intriguing theory is that Roger of Wendover simply misinterpreted a story he was told by contacts in Coventry. Equally likely is that when Roger of Wendover says that Godiva rode 'naked' he simply means without her usual finery such as fur-lined robes, jewellery, and so on. To appear thus in public for a woman of rank would be a quite remarkable thing, and worthy of note. Dressing 'below her station' would indeed have been seen as a significant protest against her husband, and show Godiva's sympathy for the peasantry. It does, however, seem extremely unlikely that a noblewoman would dress 'below her station' for any reason.
One important part of the Godiva legend is that she is supposed to be protesting her husband's imposition of heavy taxes. Yet remember that Godiva was herself a landowner in her own right, and at least one historian has claimed that Godiva, not Leofric, was the only person who could impose a tax on the people of Coventry. The concept of female authority and right to hold property was commonplace in Saxon society, but would have been a foreign concept to early Norman chroniclers, who would assume that only Leofric had authority to levy taxes.
In fact, Lady Godiva's 'nakedness' may be little more than a recollection of her generosity, for it was said that when she endowed St Mary's Priory (Coventry Abbey), she 'stripped herself' (denudata) of her worldly possessions. In this case her 'nakedness' is simply symbolic of her generous gifts. The mistake could be nothing more than a clerical error, for the name for Coventry was often recorded as Conventrensis, easily mistaken for Convent, or abbey. It is not a stretch to believe that a chronicler monk, hearing that Godiva symbolically 'stripped herself' in her generosity to the Convent, mistakenly filled in the blanks to create the version we now know.
It seems unlikely that Godiva, no matter how long her hair, would have disrobed and ridden through Coventry.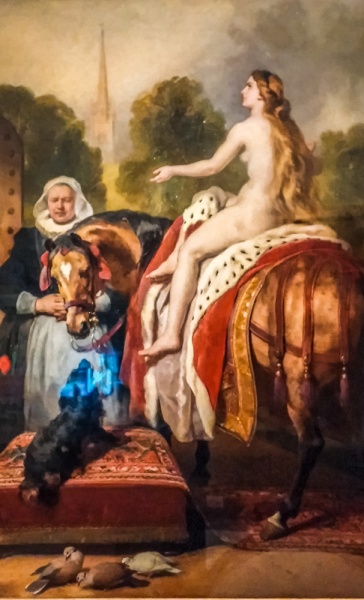 Lady Godiva's Prayer, by Sir Edwin Landseer, 1865
---
One thing to remember, though, is that Coventry was not a major settlement at that time, or even a town. It probably had a population of less than 500 people and was not much more than a village. So if Godiva had indeed ridden 'through the streets of Coventry', it would have been a short ride.
It seems highly likely that the Godiva story was just one version of similar stories that have been told about other British places, including St Briavels in Gloucestershire and Otmoor in Oxfordshire. The story also bears similarities to much earlier pagan myths involving a naked goddess figure. The idea of a naked woman riding in a procession is common to several early rites invoking a goddess of fertility.
The story of Godiva's naked ride certainly grabbed the attention of later writers and artists. The story has been painted numerous times, and many of the most important paintings, including works by John Collier, Edwin Landseer and Alfred Woolmer, are on display in the Herbert Museum in Coventry.
The earliest artistic impression of the event comes in a 14th-century stained glass window in Holy Trinity Church in Coventry. The window originally bore the inscription. 'I Luriche for the love of thee Doe make Coventre tol-free'. Unfortunately, the window was removed in 1775 and only a few fragments remain in the church.
Interestingly, images of Godiva proliferated in Coventry in the aftermath of the Reformation, when overtly Catholic imagery was banned. Godiva came to symbolise civic freedom, and Coventry held regular Godiva Processions from 1678. During these processions civic dignitaries including the Mayor, Aldermen, and city guild members proceeded through the streets, following the imagined route taken by Godiva on her famous ride, accompanying a man dressed as St George, men in black armour, and a girl on horseback clad in a flesh-coloured costume. The processions had a lot in common with medieval mummers plays.
The celebrations sometimes got out of hand, and on one famous occasion 'Godiva' had too much to drink and had to be held upright on her horse. Godiva processions ceased by 1900 but are still held on occasion to mark special events, such as coronations of a monarch or the 1951 Festival of Britain.
If you visit Coventry the image of Godiva is hard to escape. Her statue adorns the front facade of Council House, the civic offices on Earl Street. More famously, a statue of Godiva mounted on her horse stands on Broadgate, under the gaze of a clock in a nearby tower. When the hour strikes, a figure of Godiva appears, riding across the clock face on a white steed, while a small figure of Peeping Tom watches. Even today, almost 1000 years after the original events, the story of Lady Godiva lives on in Coventry.
Earl Leofric died in 1057 and was buried in the porch of St Mary's Priory in Coventry. Godiva lived another decade after her husband's death and was supposedly buried in the Priory. However, it seems much more likely that she was buried at Evesham Abbey in Worcestershire.
Attraction search