Brighton for Collectors
ARCHIVED ARTICLE
by Terry & Doris Michaud
Due south of London is the seaside resort of Brighton. It is easily reached by train, coach or private car, and is a grand place to spend some time for Anglophiles and collectors alike. Located right on the English channel, it has long been a favourite of the Royals. In fact, Brighton is home to the famous Royal Pavilion, dating back to 1783, when George, Prince of Wales rented it when visiting.
It was little more than a modest farmhouse then, but through the years it has emerged into one of the most extraordinary palaces in Europe. When scheduling a visit to Brighton be sure to allow time for a visit to the spectacular facility that has recently undergone extensive restoration.
Doris checks the map at the entrance to The Lanes in Brighton
THE LANES
For the collector, a major attraction will be The Lanes, located in the heart of town a short walk from the seashore. The Lanes can best be described as a narrow passageway that meanders for several blocks with several twists and turns. The street is not large enough to accommodate vehicles and is generally filled with shoppers and collectors trying to decide which direction to go next.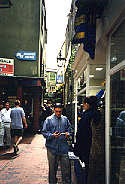 The Lanes are narrow and often crowded, but filled with goodies to buy!
No matter what you collect, chances are it can be found in or near The Lanes. There are shops geared to provide tourists with the usual knick-knacks, but more importantly, there are speciality shops for nearly every field of collectibles. Antiques are plentiful in The Lanes, from single shops to antique malls that rent stalls to independent vendors. Specialists are also found here, including several shops that offer some of the most delightful antique jewellery we have seen anywhere in England.
Our tour group tends toward interest in juvenalia, including dolls, toys and teddy bears. If your interest falls in this area, you won't be disappointed, as there are two excellent shops in the Lanes with this speciality. Bears and Friends is at 41 Meeting House Lane, and here you will find a full range of teddies of more recent vintage in a wide price range. From top-of-the-line Steiff bears to the less expensive bean bag collectables, this shop has it.
Sue Pearson's shop is filled with treasures in a wide price range!
If antique dolls and teddies are of more interest, one of Britain's leading authorities operates her shop at 13 1/2 Prince Albert Street. We discovered Sue's magnificent shop on one of our early visits to England over 25 years ago and we have made it a regular stop on our agenda on nearly every trip since. Sue has authored several books on the subject and can always be counted on to offer some of the most unique and rare pieces found anywhere. Her customers include collectors from around the world.
In addition to her stock of antique dolls and bears she also offers some of the wonderful Artist bears by Britain's best bear makers. When planning a trip to Britain allow enough time to take in all of the delights of Brighton.
HELPFUL HINTS
For our early trips to Britain, we would usually carry money in the form of travellers checks, stopping every few days at a bank to obtain currency In Pound Sterling. This requires going to the Foreign Exchange window where you will be asked for your passport. In more recent years we find it is simpler and easier to use a credit card to obtain funds. This can be done at any window in the bank and gets a more favourable rate of exchange.
You would be well advised to notify your credit card company of your plans to use the card in Britain. Our credit card holder was alerted that our card was being used for "larger than usual" amounts and they put a hold on it. This required us to make some overseas phone calls to get it clarified that it was, in fact, being used by us! We now give them advance notice of our intent to use the card in Britain.
Best time to visit Britain? You can save on the cost of airfare by going during the "off season", but we find the summer months so delightful we are willing to pay the difference and travel when the weather is most pleasant. We always go around the last week in June and in 12 years of doing our tours, we have nearly always enjoyed wonderful weather conditions.
Britain for Collectors is written by Terry & Doris Michaud, internationally known in the world of teddy bear collectors. They have authored 5 books on collecting and regularly write features for magazines in the U.S. and abroad. In a partnership with Bill & Rosemary Hayes they conduct annual collector's tours to Great Britain.
Best of Britain Express Art Prints