A Refreshing Walk in the New Forest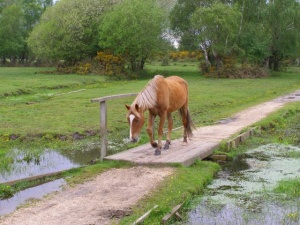 by American author Joanne Paul
London is a wonderful city. I can think of no other with such a wealth of intriguing culture and history to explore. But... I find that I can't be there for more than a week without longing for a short break away from its crowded streets and heavy traffic. Sometimes Oxford Street is so crowded with tourists and exhaust fumes it's hard to breathe.
Last year I found the perfect antidote. I took a day trip from London to the New Forest. Brockenhurst, one of the Forest's most charming villages, is just an hour and twenty minutes away in the county of Hampshire. There, the descendants of the ponies given complete freedom to roam by William the Conqueror in 1079, still wander freely. From studying guide books while still at home in LA I knew that the New Forest was known to be a marvelous place for long, refreshing walks. Just what the doctor ordered for those suffering from claustrophobia.
My BritRail timetable told me there were trains to Brockenhurst leaving throughout the day from Waterloo Station at 30 minutes past the hour. I checked to make sure there would be no problem returning and was pleased to see hourly trains returning to London at as well.
I bought a Second Class day return ticket on the 9:30 AM train for $43 ( First Class would have been $74) and arrived in Brockenhurst at 10:55. It's one thing to set out to see a famous or recommended site and after reaching it find that--sure enough, it's lovely...but, it's much more fun to be taken by surprise. I wasn't expecting anything special at Brockenhurst that hot summer morning but what I found delighted me. The High Street was just a few hundred yards from the station.
I had walked only a few steps when I saw my first pony, an amiable fellow wandering along in the midst of a group of school children, accepting as his due the occasional pat. A few steps more and I saw a group of fine chestnuts and grays leisurely standing in a puddle in the middle of the street. They couldn't have cared less about the traffic carefully maneuvering around them. The street itself was very attractive with pretty shops, tearooms and quaint pubs. Although it wasn't uncomfortably crowded there were many more people than one usually sees on villages streets. The reason was obvious from their sporty rambling attire. They had come to enjoy walking in the forest just as I had.
I had expected to see the famous ponies but hadn't expected to see them everywhere, occasionally alone but usually in small groups, sometimes standing under shady trees, other times stretching their necks over fences to nibble something from a cottage garden, or just having a good scratch against a red telephone booth. They seemed to know that no one would interfere with them.
While shopping for a New Forest guide book in one of the High Street shops I noticed on the next rack a paperback version of the classic novel: Children of the New Forest. A quick perusal showed that it takes place in 1647 during England's Civil Wars and that the action is centered very near Brockenhurst. It was lightweight and easy to slip into my backpack so I bought it along with a guidebook thinking it might be fun to read if I felt like resting while I walked in the forest. Fortified with tea and cheese scones from a High Street tearoom I set out to find a footpath. I followed two ramblers who looked like they new where they were going.
Within minutes we were in the sheltering woodland and the temperature dropped at least ten degrees. It was cool, green and peaceful with shafts of sunlight illuminating the stony bottom of a slowly moving stream. Butterflies were dancing over the water when two young ponies came to drink, and the trees were alive with the sound of rustling birds that only occasionally let themselves be seen. The last of the season's foxgloves were blooming on the banks of the stream adding just a proper bit of color.
This magic-seeming land is so vast that in spite of the many walkers I felt I had the forest to myself. When I tired of walking I found a fallen tree could make a welcome seat beside the stream and settled down to read a few chapters from Children of the New Forest. I stayed there for three hours! What a lovely way to spend an afternoon.
It was past 3:00 PM when I left the forest and started back to the village. The heat had gained in intensity during my time in the forest's cool interior and I was happy to find an ice-cream parlor on the High Street. After a reviving pineapple-coconut mousse I found I had time to explore further. On the edge of the village I discovered the parish church of Saint Nicholas in a large well-kept churchyard.
A volunteer member of the congregation was on hand to welcome visitors and answer questions. He was happy to point out the ancient Saxon masonry in the South wall, a Tudor window, and the splendid Norman doorway. The vibrant colors in the stained glass windows depicting wild flowers from each season were particularly impressive.
The volunteer told me that there is a footpath just in back of the church that leads along a scenic route to Royden House where the naturalist W. H. Hudson lived while writing Hampshire Days, his book about wildlife in the area. This was just one of many inviting paths to follow. I was tempted but decided I had just enough time to catch the 4:59 back to London. However, this short time in Brockenhurst was enough to convince me that I must return for a longer stay.
My train pulled into London Waterloo at 6:31 leaving me plenty of time to get back to my hotel and change for dinner. The next day I found I was fully refreshed and ready to tackle what ever London had in store for me.
New Forest Pony photo is (c) Jim Champion, republished with gratitude under a Creative Commons license.
Best of Britain Express Art Prints