Bath Pump Room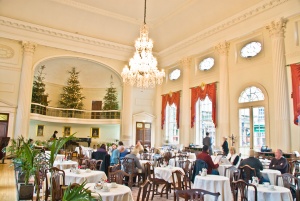 Sometimes confused with the Bath Assembly Rooms, the Pump Room is a set of elegant chambers built above the old Roman baths. It was to the Pump Rooms that the upper classes flocked when they came to Bath to "take the waters". The Pump Room is part of the Roman Bath site, and they are administered together as one attraction for visitors.
The core of the Pump Room is the grand chamber which looks down onto the old Roman Baths. Here you may sample the waters for a small fee. Warning! The waters at Bath have a very high mineral content, and not everyone has the stomach to down an entire glass of this natural liquid!
Editor's note:
I got through about half a glass before deciding to surreptitiously dispose of the remainder.
The Pump Room serves mainly as a tea shop and restaurant for the Baths, and those visiting may partake of tea to the accompaniment of live musicians, playing the classical music that would have been enjoyed by visitors here over two centuries ago.
The chambers you can visit today are essentially the third Pump Room. The first was built in 1704, in the style of an orangery. This building was remodelled in 1751, and then completely rebuilt in 1796.
Inside the entrance to the Pump Room is a Bath Chair, used to carry invalid visitors to and from their quarters in comfort. There is also a statue of Beau Nash, the master of ceremonies at the Pump Room, and acknowledged fashion arbitrator of Bath society.
More Photos
Best of Britain Express Art Prints