Dorset - A Little Bit of Heaven
by Joanne Paul
Corfe Castle, Dorset
---
Thomas Hardy said it and I think he was right: It is better to know a little bit of the world remarkably well than to know a great part of the world remarkably little. Of course Hardy was referring to writers but his advice could easily apply to travellers who want to do more than troop around to overcrowded tourist attractions, mentally cutting notches on their carry-ons as they systematically visit places they "can't afford to miss."
There's no denying that The "if it's Tuesday it must be Belgium" approach gets the job done in a fast and efficient manner. Perhaps this way of travelling can be justified for the first time traveller with limited time and budget. But after one whirlwind tour, it's time to settle down to something more satisfying, something that can bring valuable, lasting memories rather than a quickly forgotten jumble.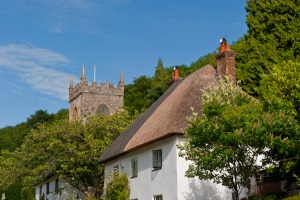 Let's imagine that we have six weeks to spend exploring. Picking just one European country, England for instance, seems a good idea, but if you really want to absorb the atmosphere and gain a little insight then choosing an even smaller area is a better idea.
What better plan could there be than to take the advice of Thomas Hardy and visit the land he loved and knew so well, the land that gave him the framework on which to hang his novels, short stories, and poems: The County of Dorset on England's southern coast.
Dorset is the ideal choice because the county is the country in miniature. Dorset was invaded by the Celts, the Romans, the Saxons, and the Normans. They all have left their mark. Within the borders of Dorset--a small county measuring about 60 miles by 40 miles -- there is a representative selection of most of England's landscapes.
The conflicts are represented by Maiden Castle where Roman met Celt, by the Bloody Assizes where authority met the Monmouth rebels, and Tolpuddle with its martyrs to social justice. England's art forms are represented by the Cerne Abbas Giant, the Abbey Church at Sherborne, and of course, the writing of Thomas Hardy. In all of these categories, Dorset is a mirror of England.
I don't mean to suggest that Dorset today looks just as it did in Hardy's day but the wonder is not that so much has gone but that so much remains. Tourist offices throughout the county can provide guides for those wishing to recapture Hardy's Wessex.
The intrepid traveller can visit Marnhull, which Hardy called Marlott, a small village near Shaftsbury. There is a meadow there that would be perfect to illustrate the May Day dance where Tess of the D'Urbervilles danced with the village girls in their white dresses.
In Evershot, Hardy's Evershead, one can still see the cottage known as Tess's cottage because it can be identified as the one where she stopped and took breakfast on her walk to Angel Clare's house.
There is a spot near Frampton, Hardy's Scrimpton, in the Frome Valley where cattle grazing in the cool, clean light of early spring with everything softened by misty morning haze, makes the observer expect to see Tess, when she was a milkmaid, emerge from the mist. The cows are Friesians which they would not have been in Tess's day but it makes no difference, Hardy's countryside is still there.
I think Hardy would approve of the towns and villages of Dorset today. Dorchester would be a good place to start exploring. It can be easily reached by train from Waterloo Station in London or by National Express Coach from Victoria Station.
Dorchester is the Casterbridge of Hardy's novels. He lived there for the last half of his life and his home, Max Gate, is nearby on the Wareham Road. His study has been recreated in the County Museum on High Street. Just across from the museum is the house where the infamous Judge Jeffreys stayed when he sat in judgment on the remains of the Duke of Monmouth's army. Today it's a cozy restaurant.
Just a short walk down the Roman Road is Maiden Castle, the most massively defended prehistorical earthwork in Britain. Archaeologists have found evidence dating back to the Iron Age. One can walk on its grassy ramparts lush with wild flowers and consider what it must have been like to have lived there before the Roman invasion.
To the south of the town lies Maumbury Rings, an amphitheatre centuries old when the Romans took it over for games, contests, and gladiatorial combats. Later it was used for public hangings; the last in 1705 was that of Mary Channing who had been found guilty of poisoning her husband.
The town is steeped in historical atmosphere but there is much to appreciate in the Dorchester of today. It's not all tarted up for tourists; its citizens are too busy going about their daily business to pay any attention to visitors.
It has all of the necessities: supermarkets, department stores, (a Marks & Spencer of course) banks, and restaurants all conveniently arranged on its main streets. It's just as Hardy said "as compact as a box of dominoes." It may not win "Most Beautiful" contests but it has character and charm. These pleasing qualities seemed to have happened naturally rather than by calculated plan.
From Dorchester it's easy to reach dozens of villages in a matter of minutes, villages with intriguing names like Sydling St. Nicholas, Evershot, Ryme Intrinsica, Maiden Newton, Melbury Osmond and Cerne Abbas. Dorchester has limitless possibilities, one could easily spend six weeks based in this town alone but there are other towns just as rewarding. Sherborne with its two castles and beautiful Abbey Church, Swanage with its lovely beach, Poole with its busy harbour, and Wimborne with its fine minister and stylish shops would all make good bases.
In Lyme Regis it is possible to walk out on the Cobb with the wind dramatically lashing the waves in the background and pretend to be Meryl Streep or Jeremy Irons as they appeared in the movie version of John Fowles' The French Lieutenant's Woman. John Fowles own house can be seen from the Cobb.
If Abbotsbury is used as a base one can visit the swannery where at nesting time in April over 300 nests cover the meadow at the head of Chesil Beach like a flock of snow-white sheep. The swans were introduced by Benedictine monks when they created a monastery in the eleventh century.
In Wareham, one can stay at a little inn by the Frome River and watch the sailboats on their way to Poole Harbor. Breakfast can be eaten on the terrace so close to the water it is possible to shake hands with the skippers as they sail by. There is a Lawrence of Arabia exhibit in the town museum. Clouds Hill where Lawrence was living when he was so tragically killed in a motorcycle accident is just a few miles from town. The National Trust owns it now.
From Wareham, it is just a ten-minute drive to Corfe Castle. This village of stone is among the most beautiful in England but its history is dominated by cruelty and bloodshed. The castle stands on a conical hill in the centre in the only gap in the ridge of the Purbeck Hills that separate Purbeck from the heathlands to the north.
During the Civil War, it withstood two different sieges but was finally delivered into the hands of the Parliamentarians because of treachery within. Parliament voted to destroy the castle in 1646 but although it was mined and blasted the massive towers did not fall but sank into the mines where they still remain, ruined but upright. It's an awe-inspiring sight, one of many to be found in Dorset.
Surprisingly the things in Dorset that are the most fun are either free or cost very little. Things like following the coastal footpath, a tour of Lyme Regis with the town crier, a walk to St. Catherines's Chapel overlooking Chesil Beach, and strolling through country towns on market day. Just breathing the sparkling, fresh air in places like Melbury Park with its five lakes, its deer park, and its fairylike forest thickly covered with oak, chestnut, and lime trees will make a journey to Dorset worthwhile.
They say London isn't what it used to be and the romantic visitor to England is bound to be disappointed. Well maybe so in some parts of England but not in Dorset. Dorset is alive and well with the perfect blend of the old and the new. No visitor to Dorset will be disappointed.
Best of Britain Express Art Prints