GF Bodley (1827-1907)
---
George Frederick Bodley has been called 'the forgotten genius' of Victorian architecture, a man who bridged the gap between the extremes of Gothic Revival and the arts and Crafts Movement and influenced them both.
Bodley was born in 1827 in Hull, where his father William served as a physician at the Royal Infirmary. Bodley could claim descent from Sir Thomas Bodley, the founder of the Bodleian Library in Oxford. His family moved to his mother's home town of Brighton when he was 11 years old.
Bodley apprenticed to the famous Victorian architect Sir George Gilbert Scott, to whom his family was related. Under Scott's influence, he became interested in Gothic Revival style, with a special focus on 14th-century style. He later became interested in the Queen Anne style and helped popularise a revival drawing on that period.
Though he was influenced by Scott, he became disenchanted with his mentor's reliance on historical precedent and accuracy. He wanted buildings that were bolder and simpler than Scott and drew on Italian and French medieval style as well as English.
---
Bodley and Morris
He was also determined to give Pre-Raphaelite artists an opportunity to show their work. Bodley formed a close friendship and a business partnership with William Morris. He gave major commissions to Morris, Marshall, Faulkner & Company to furnish churches such as St Michael and All Angels, Brighton, and All Saints', Selsley (Gloucestershire).
Those commissions helped secure the success of Morris's company. Morris and his fellow artists Dante Gabriel Rossetti, Philip Webb, and Edward Burne-Jones drew on Flemish and late-medieval English design for their work, and this, in turn, influenced Bodley to change his own style.
In 1862, just a year after Morris, Marshall, Faulkner & Co. was founded, Bodley changed his design for all Saints, Cambridge from Early English to Decorated Gothic style, featuring stained glass by Morris & Co.
Though Bodley drew on original Gothic design he was not overly concerned with 'correctness' or on rigid adherence to a particular aesthetic. He once wrote 'I can't say I care greatly for much strictness of rule or rigid uniformity, so long as all is dignified & solemn, &, from an art point of view, beautiful.'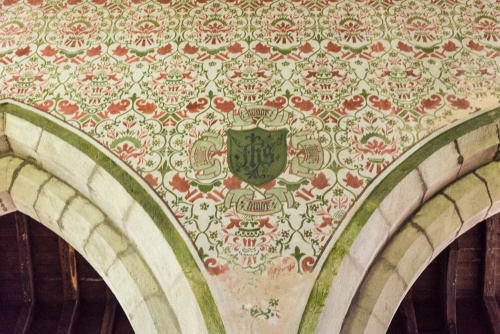 ---
Bodley's architecture was not without criticism both in his lifetime and after it. He was accused of being too aristocratic and inaccessible to ordinary people. Yet the architectural historian Nikolaus Pevsner was full of praise for his work in his masterpiece 'The Buildings of England'.
From 1869-1897 Bodley partnered another pupil of Sir George Gilbert Scott, Thomas Garner. Either alone or in partnership with Garner he designed 58 new cathedrals, churches and chapels over that time. That doesn't seem like a large number, and it is true that since Bodley had a small private income he could afford to pick and choose his commissions.
Another reason why he didn't take on numerous new projects was that he was very much a 'hands-on' architect. He preferred to be on site, supervising every aspect of the building process to make sure he got exactly the results he was looking for. He used a small number of companies to implement his designs.
This desire for complete control of the building process did not sit well with William Moris. Bodley stopped using Morris in the 1870s when he found he could not stop him from implementing his own ideas. Instead, he formed his own company called Watts & Co. to produce fabric, textiles, wallpaper and other soft furnishings for churches and private dwellings. By using his own company he could control every aspect of the building process. Watts & Co. is still active today.
---
Though he worked on numerous important buildings, the one that meant the most to him was his restoration of St James Church in Kinnersley, Herefordshire. In 1872 Bodley married Minna Reavely, the daughter of the owners of Kinnersley Castle.
Over the next 30 years, Bodley refurnished and restored Kinnersley church. He painted designs on the roof, walls, arcade, organ case and chancel arch and designed stained glass for the west window. He also designed the Reavely family gravestones in the churchyard.
GF Bodley died at Water Eaton, Oxfordshire on 21 October 1907. He is buried beside his wife in Kinnersley churchyard, near the grave of Rev Frederick Andrews, who helped him restore the church.
---
The Bodley 'Look'
What characterises GF Bodley's ecclesiastical designs? A typical GF Bodley church is based on 14th-century English Gothic and features a large, carved altarpiece. The floor is composed of black and white marble tiles in a chequerboard pattern and the windows feature stained glass in green and gold tones by CE Kempe or Burlison & Grylls. Bodley used simple style and relied on a mix of materials rather than the heavy decoration of the High Victorian period.
Bodley designed not only parish churches but college and school chapels throughout Britain, so that it is quite reasonable to say that most members of the Church of England will have worshipped in a church designed by or influenced by GF Bodley.
Highlight Commissions
Clumber Chapel, Nottinghamshire
Bedford School Chapel
All Saints Church, Cambridge
St David's Cathedral, Hobart, Tasmania
Washington National Cathedral, Washington, D.C. USA
St Michael and All Angels' Church, Brighton
Holy Trinity Church, South Kensington, London
He also acted as the supervising architect for York Minster, Southwark Cathedral in London, and Peterborough Cathedral.
Attraction search