Sir George Gilbert Scott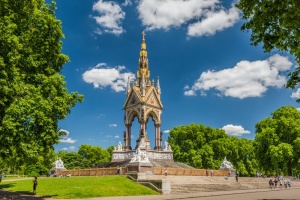 1811-1878
Sir George Gilbert Scott was the founder of a fantastically successful architectural dynasty, and probably the most successful and prolific Victorian Gothic architect. Author Simon Jenkins called Scott the 'unsung hero of British architecture'.
Unsung, perhaps, because although his output was extraordinary - you could say that no corner of Britain was left completely untouched by Scott, and either directly or indirectly his style touched every aspect of British life - his work was not always admired, even in his own lifetime.
Scott was born in Gawcott, Buckinghamshire, the son of a poor clergyman. He studied architecture with James Esmeston, then worked in the offices of Henry Roberts and then with Sampson Kempthorne. He was not well off, so Scott had trouble launching his own practice. As a result, he found work where he could - much of it designing workhouses and gaols.
His best known early design was Reading Gaol, later made famous in a poem by Oscar Wilde. He travelled to France, studying Gothic cathedrals and parochial churches. These studies helped form his own vision of architecture, which was heavily influenced by French High Gothic (1280-1340). Scott believed passionately in the Gothic Revival; he thought that the Gothic style was the best, indeed, the only, suitable style for both secular and ecclesiastical buildings.
Perhaps his most memorable early commission was not a building, but The Martyr's Memorial in Oxford, his first real foray into Gothic Revival design. The design, it must be said, looks for all the world like a very ornate top to a church steeple.
His most important early church design was St Giles, Camberwell, London (1841-4). St Giles established Scott's name as a Gothic Revival architect and led to a commission to design the Church of St Nicholas in Hamburg, Germany. Other major British commissions followed, including town churches like St George's, Doncaster, and St Matthias, Richmond.
Along with new designs came a huge quantity of work restoring older churches. Here, Scott tended to have a heavy hand, sweeping away original work and replacing it with his own meticulously crafted 'improved' Gothic. He was hired to oversee restoration work on many of England's cathedrals and became Surveyor of the fabric for Westminster Abbey.
It is not for a church that Scott's name is best remembered, however, but for a London landmark. When Prince Albert, Queen Victoria's beloved consort, died in 1861 it was decided to erect a memorial to him in Kensington Gardens.
A design competition was held, and Scott's exquisitely gilded design won. The Albert Memorial was built 1863-72. It would be hard to find a more striking example of Victorian Gothic style. Scott's design was a mix of Byzantine and medieval design, with a brooding sculpture of the Prince beneath an ornate canopy decorated with marble, precious metals, and enamel.
Scott's most prominent civic commission was the Foreign and War Offices in Whitehall (now the Foreign and Commonwealth Offices). Here he ran headlong into a stubborn Lord Palmerston, who insisted on a neo-classical design. The argument provoked a public reaction which might seem puzzling to modern eyes, but at the time it was a real clash of values. In the end, Palmerston was victorious, and Scott designed the buildings in the style of an Italian Renaissance palace.
Scott died in 1878 and is buried in Westminster Abbey. Not too shabby for a boy from a poor family.
SCOTT'S LEGACY
Even in his lifetime, Scott's work was received with less than universal acclaim. After his death, public perception of Victorian restorations, in general, swung towards vitriol. At best Scott was accused of insensitivity, of sweeping away authentic historical architecture in favour of an antiseptic version of Gothicism. At worst, his work was seen as little more than vandalism, out and out destruction of British history, with no redeeming positive qualities.
Perhaps time has mellowed this view. Without Scott's prodigious output, and that of other Victorian restorers, many of our historic medieval buildings would simply not have survived. Yes, at times they did sweep away real Gothic architecture and replace it with mass-produced and rather soul-less copies. But what is fascinating about Scott's Victorian Gothic is how his style reflected the times; it was important to Victorians not simply to copy the past, but to show the wealth and vitality of a 'new Gothic' Britain; a new age. The Victorian Age.
If you simply compare Scott's architecture to the original medieval Gothic, he will come off second-best, but if you view his work as a reflection of the Victorian era; full of vigour and High Church idealism, it becomes much more interesting in its own right. And for better or worse, Scott helped change the face of Britain; the way our buildings looked, their style and decoration - a style that still lingers. He deserves to be remembered as one of Britain's most influential architects.
SCOTT FACTS AND FIGURES

GG Scott was responsible for 800 building designs in England
In addition, he directed the restoration of several hundred more buildings
607 of Scott's buildings are now 'listed' for their historic importance - far more than any other architect
Scott helped restore 18 medieval cathedrals in England (there are only 26 in total)
NB. If you have ever read more than a few church guides you have undoubtedly run across the name Gilbert Scott before, but it is not always clear which Scott is being mentioned! Let's see if we can clear up any confusion:
The Scott architectural dynasty:
Sir George Gilbert Scott (Snr) 1811-78
George Gilbert Scott (Jnr. note, no 'Sir') 1839-97
John Oldrid Scott (also a son of Sir George) 1842-1913
Sir Giles Gilbert Scott (grandson, also knighted) 1880-1960
Elizabeth Scott (cousin of Sir Giles, designed Royal Shakespeare Memorial Theatre in Stratford upon Avon)
Between them, the Scotts had a hand in an extraordinary number of important civic and ecclesiastical building and rebuilding projects throughout Britain from the mid-19th to the mid-20th century.
SOME SCOTT BUILDINGS TO SEE
Albert Memorial, London
St Pancras rail station and hotel, London
Cathedrals of Hereford, Ely, Winchester, Salisbury, Lichfield, Peterborough
Exeter College Chapel, Oxford
St John's College Chapel, Cambridge
Edinburgh, St Mary's Cathedral
Kelham Hall, Nottinghamshire
RELATED
Gothic Revival
William Butterfield
GE Street

Attractions associated with Sir George Gilbert Scott
Best of Britain Express Art Prints