Virtual Tour of England - East Midlands
< BACK | VIRTUAL TOUR | NEXT >
---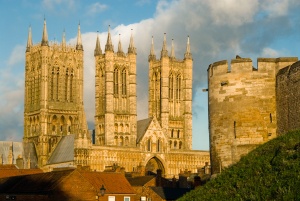 For the purposes of our Virtual Tour the East Midlands is centred on the counties of Lincolnshire and Nottinghamshire. At Lincoln, the superb medieval cathedral is notable for its extraordinary exterior. Here is art in stone. The west front, in particular, is magnificent in its use of sculptural detail and the richness of its design.
The angel choir is a masterpiece of the Decorated style. In the south-east porch is the "Judgement Portal", with its marvellous relief carvings of Christ presiding over the Last Day, and in the choir is the "crazy vault" of intertwining ribs crisscrossing the bay. The medieval remains of Lincoln Castle host exhibits on the Magna Carta and a reconstructed Prison Chapel.
A different castle experience can be had at Tattershall, a 15th-century tower castle in the French style built of warm red brick. The nearby collegiate church is an excellent example of Perpendicular Gothic style.
If Tattershall is arguably more house than castle, the same is doubly true of Belvoir Castle, a romantic Gothic house perched on a rocky hilltop. Belvoir boasts a fantastic painted ceiling, and a collection of paintings by Gainsborough, Holbein, and the ubiquitous Joshua Reynolds.
Nottingham is known to most tourists for its association with the legends of Robin Hood. At The Tales of Robin Hood attraction you can trace the "real" story behind the legends, and enjoy a medieval banquet. At the Sherwood Forest Visitor Centre you can see the Major Oak, reputedly the place where Robin Hood and his Merry Men gathered.
Nottingham has more to offer than Robin Hood; the city has a long heritage as a centre of the lace industry. At The Lace Centre you can trace the history of Nottingham lace and try your hand at making some yourself! Medieval Nottingham Castle is now a city museum and art centre, and the nearby Costume and Textile Museum displays costumes of the past 200 years in a series of period room settings.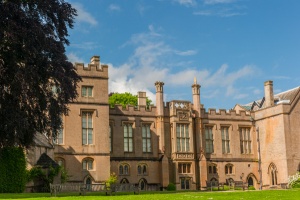 Newstead Abbey near Ravenshead was the childhood home of poet Lord Byron. The romantic Gothic house is built around the remains of a 13th century Augustinian Priory. Holme Pierrepont Hall on the outskirts of Nottingham is a Tudor manor filled with fine period furniture. See if you can find the secret courtyard garden!
Southwell Minster is a magnificent cathedral dating back to the early Norman period. The 13th-century Chapter House contains superb stone carvings, notably the "Leaves of Southwell", delicate foliage carvings. Look for the mysterious faces of the "Green Man" peering out from between the leaves.
At Laxton, medieval open-field strips are still used by local farmers, and Morris dancers greet the dawn on the walls of ruined Laxton Castle each May Day.
More Photos
Best of Britain Express Art Prints