10 Beautiful stately homes within easy reach of London
Exploring England, Scotland, and Wales
The historic stately homes of England are one its greatest treasures. But there's a good reason that stately homes are often referred to as country houses - they tend to be out in the English countryside, far from London, where many visitors to England start, and in many cases, end their trip to Britain.
But whether you're a London visitor or even a resident of the capital, there are still some beautiful stately homes within easy reach, making for a wonderful day trip. Here are some of our favourite stately homes within easy reach of London.
Most will need a car to get to, though in many cases you can take a train from central London to a nearby rail station and then take local transport to the house.
---
1. Hatfield House - Hatfield, Hertfordshire
Hatfield is one of the great stately homes of England, built from an earlier bishop's palace. It was once a Tudor royal palace but was later acquired by Robert Cecil, chief minister to both Elizabeth I and James I. Hatfield is still home to the Cecil family.
When Henry VIII dissolved the monasteries he seized the Bishop's palace at Hatfield and turned it into a royal palace, using it as a place where his children could be raised, reasonably close to London yet far enough away for them to be safe - and out of the way.
Henry sent Princess Elizabeth (later Elizabeth I) to Hatfield when she was just three months old. The infant princess had her own household, and her elder sister Princess Mary served as her lady-in-waiting. Elizabeth, and later her brother, Prince Edward, lived at Hatfield for much of their childhoods.
Ah, but when Mary took the throne, Elizabeth became a virtual prisoner at Hatfield.
On 17 November 1558 Elizabeth was sitting under an oak tree in the park at Hatfield, reading a book when the news was brought to her that her sister Mary was dead and that she, Elizabeth, was now queen.
Hatfield was still a royal home in 1607 when Elizabeth's successor, James VI and I, offered to exchange it for the Cecil family home at Theobalds. It was a wise political move not to refuse the exchange, so Robert Cecil, the 1st Earl of Salisbury, became the new owner of Hatfield.
Cecil tore down three wings of the royal palace and used the bricks to build a fashionable new house beside the palace. He spared no expense in creating a sumptuous home, decorated in opulent style for court gatherings and entertaining, and furnished with fine art and furniture.
The centrepiece of Hatfield is the Marble Hall, which looks much as Robert Cecil would have remembered it, with a striking floor made of alternating squares of black and white marble. On the wall hangs the 'Rainbow Portrait' of Elizabeth I, showing Elizabeth holding a rainbow in one hand.
Look for the Long Gallery, running the full width of the house, where you will find a hat, stockings, and gloves that belonged to Queen Elizabeth I. The silk stockings are thought to be the first pair imported into England.
Nearest rail station: Hatfield, very easy walking distance
Read more about Hatfield House, with photos, visiting information, directions and nearby accommodation.
---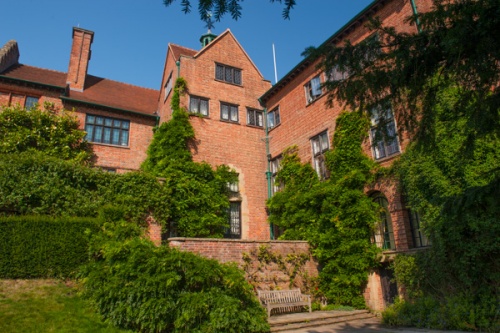 ---
2. Chartwell - Westerham, Kent
Chartwell was the family home of Winston Churchill and stands in superb gardens offering views across a private lake. The exterior of the house is unremarkable, but it hides comfortable family home, full to bursting with Churchill memorabilia, from cigars to paintings to war correspondence.
Winston Churchill bought Chartwell in 1922 as a country retreat from his busy political life in London. He really couldn't afford the house, but he fell in love with the property and the wonderful views over the Kentish Weald.
The most interesting feature of the house interior is Churchill's study, where he wrote many of his books, particularly the historical books he produced after retiring from politics, such as his enduring 'A History of the English-Speaking Peoples'. Churchill would often sleep in this room and work either standing at a desk or pacing the floor, dictating to secretaries.
Chartwell is as much a museum as a house, stuffed with memorabilia, from war uniforms to gifts given by political allies. Churchill's own paintings hang on the walls, and in the garden is his painting retreat.
Nearest rail station: Edenbridge
Read more about Chartwell, with photos, visiting information, directions and nearby accommodation.
---
---
3. Knole - Sevenoaks, Kent
In 1456 Thomas Bourchier, Archbishop of Canterbury, purchased the 12th-century estate of Knole, near Sevenoaks in Kent from Lord Saye and Sele. Bourchier transformed the existing medieval manor house into a stately home that resembles an Oxford college more than it does a typical country house.
Knole's location on top of a low hill, or knoll, gave the house its name.
Almost a century later the house was owned by the serving Archbishop, Thomas Cranmer, when Henry VIII mentioned that he could quite happily live at Knole.
Cranmer, quick to take a hint, promptly gave Knole to the king. Knole remained in royal hands until 1566 when Elizabeth I leased it to Thomas Sackville. In 1603 Sackville purchased the estate, and the house is still in the hands of the Sackville family today.
In the medieval Great Hall hangs a painting of Thomas Sackville, the 1st Earl of Dorset, a career politician who served both Elizabeth I and James I. He is depicted wearing his sash of office as Lord Treasurer, with a large key hanging from the sash. That very key hangs from the gilded portrait frame.
Beyond the Great Hall is the Great Staircase, one of the most magnificent Jacobean pieces of woodwork in an English house.
The stair is decorated with heraldic devices and remarkable grisailles wall paintings. At the top of the stair is the Brown Gallery, a long and narrow chamber lined with wooden panelling, historical portraits, and some of the superb fine furniture for which Knole is famous.
Nearest rail station: Sevenoaks
Read more about Knole, with photos, visiting information, directions, and nearby accommodation.
---
Book your Large Group Holiday Cottage in Cornwall Today
Perfect for family reunions!
---
4. Chenies Manor House - Chenies, Buckinghamshire
Chenies is a gabled manor house built in the 15th century, with 16th-century alterations. It was once the home of the Russell family, Earls of Bedford.
In the reign of Edward I, John, Lord Russell, transformed Chenies from a secluded country house into a fortified manor house suitable for hosting the royal court. Henry VIII visited several times. On one fateful visit in 1541 he came with Catherine Howard, his fifth wife.
It was possibly at Chenies that Archbishop Cranmer's secret informers gathered evidence of Catherine's affair with Thomas Culpepper, an affair that led to the queen's execution for treason a few months later. Henry VIII's footsteps can still be heard echoing down the corridor leading to Catherine's room.
Like her father, Elizabeth I visited Chenies several times. Her bedroom was later converted into a billiard room.
Many of the downstairs rooms are filled with Georgian and later furniture, though much of the decor has its roots firmly in Tudor times. The effect is wonderfully warm and welcoming; this is very much a family home, not a museum showpiece.
Upstairs are atmospheric bedchambers, including one with a secret hiding hole under the floorboards of a cupboard. Then there is the long gallery, with exhibits on the family's long history at Chenies.
Nearest rail and underground station: Chalfont & Latimer
Read more about Chenies Manor House, with photos, visiting information, directions and nearby accommodation.
---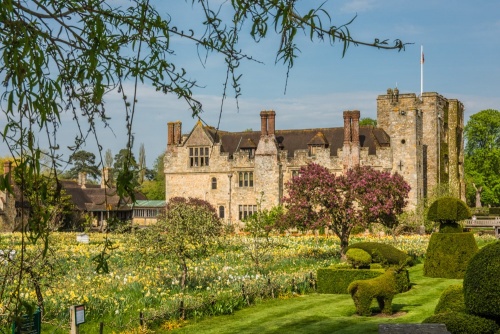 ---
5. Hever Castle - Edenbridge, Kent
Hever Castle is best known as the childhood home of Anne Boleyn, Henry VIII's second wife. The moated castle was begun in 1270 by William de Hever, though the gatehouse is all that remains of that first castle. In 1462 the castle passed to the Bullen (Boleyn) family, and Geoffrey de Bullen added wings on each side of the existing gatehouse.
Several decades after the Boleyn family took over Hever, its most famous inhabitant, Anne Boleyn, was born. Anne spent most of her childhood at Hever, and Henry VIII is known to have visited here during his courtship. Anne's father, Thomas de Boleyn, enlarged Hever and added the Long Gallery.
After Anne's execution, Henry gave Hever to Anne of Cleves, his fourth wife. Over the following centuries, it passed through the hands of several private owners until in 1903 it was purchased by the hotelier William Waldorf Astor.
Astor spent huge amounts of his wealth on the estate; he restored the castle, building the estate village in mock-Tudor style, and laid out the wonderful formal gardens that surround the castle.
The most famous garden feature is the yew maze. Then there is a superb Italianate Garden, designed to showcase Astor's collection of Italian sculpture.
Nearest rail station: Edenbridge Town Station
Read more about Hever Castle, with photos, visiting information, directions and nearby accommodation.
---
---
6. Polesden Lacey - Great Bookham, Dorking, Surrey
Polesden Lacy is an early 19th-century Regency house transformed into an Edwardian mansion by the brewery heiress Mrs Ronald Greville.
Mrs Greville created a sumptuous country retreat where she could entertain film stars, nobility, politicians and socialites in a glittering array of parties.
The architects were Mewes and Davis, who also designed the Ritz Hotel in London. Every room was designed with a unique style and distinct character, and every bedroom contained a private telephone and ensuite facilities at a time when such things simply were not common. If you received an invitation to Poleseden Lacey, you knew you had 'arrived' at the top of London society.
In 1923 Mrs Greville offered Polesden to the Duke and Duchess of York (later King George VI and Queen Elizabeth) for their honeymoon, and the royal couple spent two weeks living here.
Mrs Greville left the estate to the National Trust in 1942.
Nearest rail stations: Boxhill & Westhumble 3 miles; Bookham 2.7 miles, Dorking 4 miles, Leatherhead 4 miles
Read more about Polesden Lacey, with photos, visiting information, directions and nearby accommodation.
---
---
7. Petworth - Petworth, West Sussex
Petworth House began as a medieval manor, home to the powerful Percy family. It was remodelled in 1688 by Charles, Duke of Somerset (nicknamed "The Proud Duke" because that's just what he was).
Petworth boasts a superb collection of fine art, including works by JMW Turner, Thomas Gainsborough, and Sir Joshua Reynolds.
The 2nd Earl used Petworth to showcase his collection of antique statues, but it was his son, the 3rd Earl, who established Petworth as a centre of the art world.
The 3rd Earl Egmont was a patron of JMW Turner as well as several of his now-famous contemporaries, and he filled the house with their paintings. The Earl was such an avid collector that the Petworth galleries had to be extended twice in his lifetime simply to hold all the paintings and sculptures he acquired.
Petworth is set in over 700 acres of parkland, frequently painted by Turner.
Nearest rail station: Pulborough
Read more about Petworth House, with photos, visiting information, directions and nearby accommodation.
---
---
8. Hatchlands - East Clandon, Guildford, Surrey
Hatchlands is a beautiful 18th-century mansion with magnificent interiors by Robert Adam. The house stands in a landscaped park designed by Humphry Repton, with more formal gardens designed centuries later by Gertrude Jekyll.
Hatchlands was built in 1750 by Admiral Boscawen, the hero of the Battle of Louisburg.
The estate existed at the time of the Domesday Book in 1086 and for over 800 years it was owned by the monks of Chertsey Abbey.
Though the Adam interiors are outstanding, the true interior highlight at Hatchlands is the Cobbe Collection of rare and unusual keyboard instruments; probably the largest such collection in the world.
The Cobbe family collected instruments associated with famous musicians, conductors, and composers, among them a virginal made for King Charles II, a piano belonging to JC Bach (1778), a grand piano used by Frederick Chopin for public performances, and another used by Joseph Haydn. Look for the square piano owned by Queen. Marie Antoinette of France.
Hatchlands is now cared for by the National Trust.
Nearest rail station: Clandon (but note there is no taxi rank at the station)
Read more about Hatchlands, with photos, visiting information, directions and nearby accommodation.
---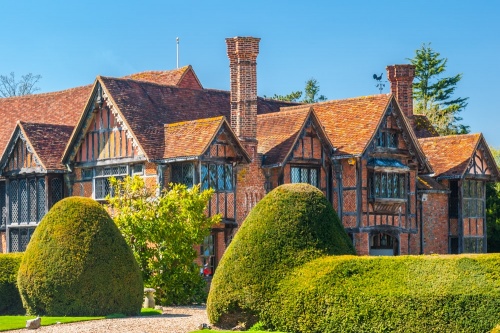 ---
9. Dorney Court - Dorney, Windsor, Buckinghamshire
Dorney Court is a rambling Tudor manor, the home of the Palmer family for over 450 years. The house showcases early family portraits, needlework, and works of art in an attractive set of Tudor and Elizabethan rooms. The galleried hall is especially attractive.
The manor was begun around 1440 by Sir James Palmer and it has remained remarkably unaltered since then. Generations of Palmers resisted the urge to update the house, and as a result, Dorney is essentially a medieval home, oozing history and charm.
One of the historic highlights at Dorney is a piece of Elizabethan tapestry, given as a wedding present to Thomas Palmer in 1624. The tapestry is one of the finest examples of Elizabethan needlework in existence and depicts the lives of various 16th-century Palmers.
Nearest rail station: Windsor & Eton Riverside
Read more about Dorney Court, with photos, visiting information, directions and nearby accommodation.
---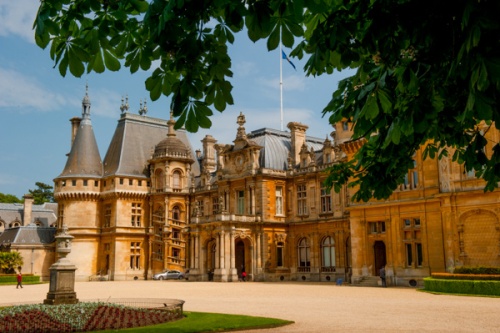 ---
10. Waddesdon Manor - Waddesdon, Aylesbury, Buckinghamshire
Waddesdon was begun by Baron Ferdinand de Rothschild in 1874 in the style of a French chateau, looking out over a pastoral landscape to the Chilterns.
The house is built of warm-coloured Bath stone and looks for all the world like a French chateau transported as if by magic to the English countryside. A broad avenue leads up the hill to the house, and behind the elegant house stretch formal terraced gardens.
The building of Waddesdon was a massive project, taking 15 years to complete, and when you see the result you understand why. The house is huge, and the Rothschilds spared no expense in creating what must be one of England's finest houses.
Waddesdon is full of 18th-century English portraits, including Gainsborough's Pink Boy, and no less than 10 works by Sir Joshua Reynolds. Other highlights include a number of Dutch paintings, including The Garden of Love, by Rubens.
But even more impressive than the art is the collection of fine furniture. Look for an inlaid writing table made for Marie Antoinette, and a carpet commissioned by Louis XIV for the Louvre.
The decorative panelling was imported from Parisian houses, and the richly ornamented rooms boast superb plastered and painted ceilings. Waddesdon is a remarkable piece of France in a lovely English setting.
Nearest rail station: Aylesbury Vale Parkway
Read more about Waddesdon Manor, with photos, visiting information, directions and nearby accommodation.
---
These are just a few of our favourite stately homes within easy reach of London. Any of them would make a good day out from the capital on its own, and happily several are close enough to make it possible to combine a trip to several houses in one go. For example, Dorey Court, Waddesdon, and Chenies are a reasonable distance apart, as are Knole, Chartwell and Polesden Lacey.
More Reading: we've written an overview of country house history in our English History section, and you might also find our English country house gazetteer useful. We also have a comprehensive list of historic houses in England.

Best of Britain Express Art Prints