Ashby de la Zouch Castle
History, tourist information, and nearby accommodation
HERITAGE RATING:

HERITAGE HIGHLIGHTS: 15th century tower house, and an underground passage to the kitchens
Ashby de la Zouch Castle
---
After the Norman Conquest the estates at Ashby, or Aschebie as it is called in the Domesday Book, was owned by the Earls of Leicester. There was no castle here at that time, just an unpretentious fortified manor house.
Sometime in the late 12th century, the estate at Ashby was granted to the le Zouch family in exchange for military service to the Earls. We know almost nothing of the Zouch family manor house, which may have stood where the castle great hall is now.
The Zouch line died out in 1399 and legal wrangling ensued over who should inherit. The disputes raged on until 1462 when William, Lord Hastings was granted possession, along with enormous estates elsewhere in the Midlands.
Hastings was an astute statesman and soldier, who rose to prominence during the Wars of the Roses as a supporter of the future Edward IV. He served as Edward's Lord Chamberlain and was the virtual ruler of territory including much of Derbyshire, Leicestershire, Nottinghamshire, and parts of Warwickshire.
Naturally, a powerful official like a Lord Chamberlain needed a residence to match his status. Or two residences. Or three, four, or possibly five.
In 1474 Hastings was granted leave to crenellate at least four manors, and maybe five. This was no little thing; to crenellate meant you were trusted by the king, for only a trusted official could be allowed to fortify his house. So not only did the right to fortify a house mean you could defend it against attackers, it meant that you had the ear of the king, and were thus a very important person indeed.
Hastings Tower
---
Work on Ashby de la Zouch castle actually began before the license to crenellate. Was Lord Hastings jumping the gun a little, assured of his place at Edward's side? Perhaps, but Hastings did not simply add defensive features; he added ornamental pleasure gardens and extensive outbuildings and enclosed an area of 1200ha (about 3,000 acres) to be a hunting park.
The outcome of this ambitious project was to transform Ashby from a small manor house into a superb fortified residence; an imposing and impressive seat of power for one of the most influential men in the kingdom.
Hastings Tower
The most impressive new feature introduced by Hastings was a kitchen tower that was at the time one of the largest in the country. Hastings' original plans called for a further three towers set in a high wall around the property, but these further towers were never built.
The old manor house was rebuilt and extended beyond all recognition, a new chapel built, and a number of service buildings. The tower still stands to its original four storeys, rising from storerooms at the base, to a kitchen, hall, and solar on the top storey. It was, and still is, one of the most impressive tower houses in England.
Visitors can climb the stair to the top of the tower for wonderful views out over the town and across the later formal gardens. So thorough were Hastings' plans that the tower had its own well, its own portcullis, and an underground tunnel between the tower and the main kitchens.
NB. You can walk this tunnel, though it is quite dim and inclined to be damp. Our 12-year-old daughter called it 'creepy' but then she's at an age where a lot of things are getting labelled creepy!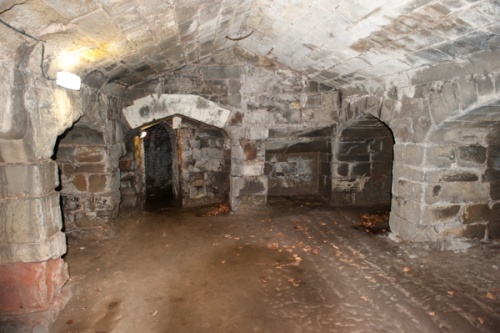 Kitchen passages
---
Unfortunately, Hastings' grand plans for Ashby were about to suffer a setback, as the winds of political change were blowing. In 1483 Edward IV died. Hastings, by sheer dint of his influence and ties to Edward's reign, was a threat to the ambitions of Edward's brother, Richard, Duke of Gloucester.
In a scene made famous by Shakespeare, Richard seized Hastings from a council meeting at the Tower of London, accused him of treason, and had him summarily executed.
It was not the end of Ashby de la Zouch Castle, however, for Hastings' heirs managed to hold on to the property. In 1529 Henry VIII named William's grandson George the 1st Earl of Huntingdon. George remodelled many of the stone buildings at Ashby in the then-fashionable red brick. He also laid out the gardens, perhaps to emulate gardens at Belvoir.
George's grandson, the third Earl, also named George, briefly acted as a gaoler to Mary, Queen of Scots, who was held at Ashby temporarily. Unfortunately, George was not blessed with the financial acumen of his forebears, and when his brother, another George, inherited the estate he had hardly two farthings to rub together.
In 1603 poor George had to petition James I for financial help, claiming that he was not able to maintain himself in the manner expected of an Earl. It was the 17th-century equivalent of declaring bankruptcy. James eventually obliged, and Queen Anne of Denmark and Prince Henry came for a royal visit.
George's grandson, Henry, the 5th Earl, hosted another royal visitor, James himself, in 1617. Then Charles I and Queen Henrietta were entertained in 1634. Part of the entertainment of these royal guests may have been the creation of the gardens at Ashby.
But if the early 17th century was a time of relative prosperity at Ashby, the mid-17th century was not, for the castle was about to get caught up in the Civil War.
Henry Hastings, brother of the 6th Earl, garrisoned Ashby for the king and fortified both the castle and the town. Charles I visited Ashby twice during the war and stayed at the castle after the defeat of his army at Naseby in 1645.
In 1646 Hastings was eventually forced to surrender to Parliament and was forced to destroy the town fortifications. Parliament briefly used the castle as a prison, then decided that it was better to destroy the defences.
Parliamentary troops went beyond their mandate, however, and Hastings complained to Parliament that they had ruined his 'only convenient mansion'. I'm not sure his protest was heard with much sympathy.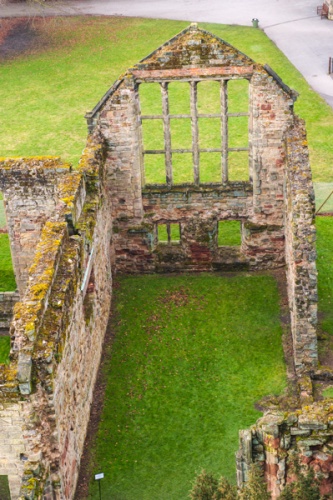 The view from the tower
---
Ashby castle saw a brief Renaissance as 'Ashby Palace', a grand dower house made from the remains of the hall and outbuildings. When the 9th Earl died it was the home of Selina, his countess, who founded an evangelical Calvinist sect called the Countess of Huntingdon's Connexion. When the last Earl of Huntingdon died without an heir in 1789 the castle passed to Francis Rawdon, later Earl of Moira.
Moira could not have foreseen what was about to happen to make his ruinous possession a destination for tourists. In 1819 Sir Walter Scott set a jousting scene in his novel Ivanhoe at Ashby de la Zouch Castle.
The popularity of Scott's book meant that people flocked to see the castle. Being no fool, Moira's agent repaired the ruins, printed a guidebook to the town and castle, and Ashby was transformed seemingly overnight into a popular resort. Lord Moira's son tore down Ashby Palace and erected Ashby Manor, now a school between the castle and nearby church.
Ashby de la Zouch Castle came under the care of the state in 1932 and has been looked after by English Heritage since 1983.
Summing up Ashby de la Zouch Castle
I've visited a lot of castles around Britain, but this was one of the most enjoyable visits I've ever had. The detail of the architecture is sumptuous; it really does help you imagine just what a grand and impressive castle this must have been in Lord Hastings' day.
Do take time to stroll over to the church, which is practically next door to the castle. There you can see the Hastings Chapel and the tombs of several owners of the castle.
About Ashby de la Zouch
Address: South Street, Ashby-de-la-Zouch, Leicestershire, England, LE65 1BR
Attraction Type: Castle
Location: Ashby is 12 mile south of Derby on the A511. Well signed. Parking on South Street in town parking lot (paid)
Website: Ashby de la Zouch
English Heritage - see also: English Heritage memberships (official website)
Location map
OS: SK359 166
Photo Credit: David Ross and Britain Express
---
HERITAGE
We've 'tagged' this attraction information to help you find related historic attractions and learn more about major time periods mentioned.
Find other attractions tagged with:
castle (Architecture) -
NEARBY HISTORIC ATTRACTIONS
Heritage Rated from 1- 5 (low to exceptional) on historic interest
Ashby de la Zouch, St Helens Church - 0.1 miles (Historic Church)

Ashby de la Zouch Museum - 0.2 miles (Museum)

Staunton Harold Church - 2.9 miles (Historic Church)
Moira Furnace - 2.9 miles (Historic Building)

Calke Abbey - 4.1 miles (Historic House)

Stretton-en-le-Field, St Michael's Church - 4.4 miles (Historic Church)
Donington-le-Heath Manor - 4.6 miles (Historic House)
Grace Dieu Priory - 4.8 miles (Abbey)

Nearest Holiday Cottages to Ashby de la Zouch:


More self catering near Ashby de la Zouch