Historic Leicestershire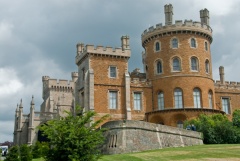 Leicestershire tends to be ignored by most tourists, which means that those smart enough to visit get to explore without having to elbow aside the competition! Leicestershire is a delightful place to visit, with large stretches of unspoilt countryside and a variety of gardens, historic houses, and other assorted goodies to indulge in.
Perhaps the biggest "name" attraction is Belvoir Castle, at Grantham. The castle dates back to the 11th century, but the present building is largely the product of a romantic early 19th century restoration. The bulk of the work was executed by the John Thoroton, whose primary credential for the job was his position as the family chaplain. The castle provides a sumptuous display, including fantastic painted ceiling, and a collection of paintings by Gainsborough, Holbein, and the ubiquitous Reynolds.
Stanford Hall is a - somewhat - more sedate home, dating back to the early 15th century. Of note is the collection of family costumes and Royal Stuart portraits. Leicestershire boasts a number of excellent medieval manor houses; Kirby Muxloe Castle is a good example of a fortified manor, built of brick within an encircling moat. Donnington-le-Heath is a less pretentious manor house built about 1280, and Ashby-de-la-Zouch is a late medieval manor dominated by an 80 foot high tower split in two during the Civil War! The castle was the scene of a great joust in Walter Scot's novel Ivanhoe.
Even earlier are the Iron Age hill forts of Breedon Hill and Burrough Hill, while the Roman period is represented by the excavated Roman town of Ratea Coritanorum, in the middle of modern Leicester itself!
Leicestershire is a real treat for those interested in church architecture, with so many delightful and architecturally interesting parish churches. To mention just a few of many, Market Harborough church is blessed with a soaring broach spire, and Bottesford, where the first eight Earls of Rutland have their tombs.
Leicester itself has been largely overtaken by the Industrial Age, yet it retains much of historical interest. We've mentioned the remains of the early Roman town, but visitors will also want to see the 14th century timbered Guildhall, and a trio of excellent museums; the New Walk, Newarke Houses, and Jewry Wall.
Outside Market Bosworth is the Bosworth Battlefield Visitor Centre and Country Park, marking the site of the decisive battle of the Wars of the Roses. On this spot in 1485 Henry Tudor overthrew Richard III and became the first Tudor monarch. In late summer the battle itself is re-enacted (dates vary), but at other times displays and a battle trail recreate the conflict. (More on the battle
here
)
For a gastronomic treat, visit Melton Mowbray, where Stilton cheese and Melton Mowbray pork pies are served in the place where they were first created.
Attraction search